Salmon and Kumara Cakes Recipe
The fresh lime and Greek yoghurt sauce is a delicious condiment to these salmon and kumara cakes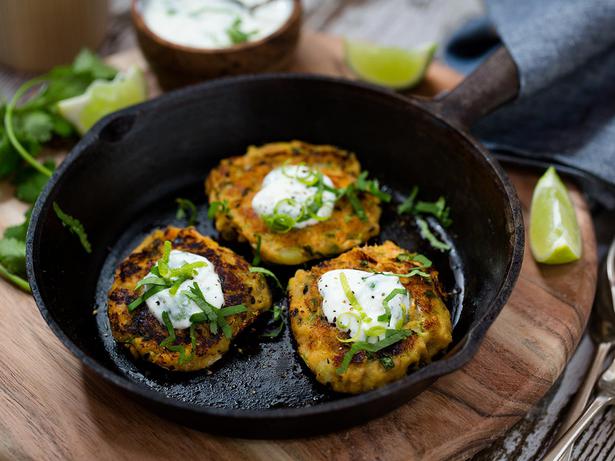 Friday July 28, 2017
For these salmon and kumara cakes, the sweetness of the kumara works to complement the fish and the Asian ingredients add another level of flavour. The lime and Greek yoghurt make for a delicious fresh sauce. With any leftovers, try squashing a fishcake on to some toasted ciabatta, or add a little chilli to spice them up.
SALMON AND KUMARA CAKES RECIPE
Makes 8
500g kumara, peeled and cut into even pieces
1 spring onion, finely chopped
½ cup chopped coriander
¼ cup chopped parsley
2 tsp lime zest
1 Tbsp soy sauce
1 tsp fish sauce
200g smoked salmon
¼ tsp each salt and freshly ground pepper
Flour for dusting
Butter for cooking
½ cup Greek yoghurt mixed with juice of ½ lime
1. Place the kumara into a boiling pot of salted water, cooking for 10 minutes until softened. Drain and mash roughly with a fork. Allow to cool.
2. Add to the kumara the spring onion, coriander, parsley, lime zest, soy sauce and fish sauce, then flake in the salmon mixing well but not mushing it up. Season with salt and pepper. Shape into eight even-sized cakes. Refrigerate until needed.
3. Before cooking dust with flour. Heat a knob of butter in a frying pan to a medium heat. Fry the cakes for 3 or 4 minutes each side until golden.
4. Serve hot with the Greek yoghurt. Garnish with extra lime and coriander leaves.
Share this: