Salmon Skewers Recipe with Courgette and Lime
These skewers are a great way to start — fresh, light and simple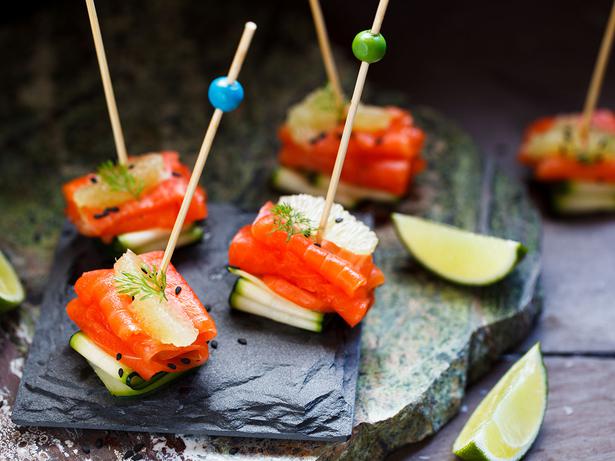 Thursday Nov. 5, 2015
SALMON SKEWERS RECIPE WITH COURGETTE AND LIME
Makes 12
• 2 courgettes, peeled lengthways into ribbons
• 2 Tbsp lemon juice
• 200g sliced smoked salmon
• 12 bits of sushi ginger
• 1 lime, segments removed
• 1 tsp black sesame seeds, toasted
• 1 lime to serve
• Soy sauce to dip
1. Toss the courgettes into the lemon juice.
2. Cut the salmon into 12 strips.
3. Fold each ribbon of courgette, then fold the salmon placing a piece of ginger into the middle of each. Stick the salmon and courgette onto a skewer and top with a segment of lime. Repeat to make 12. Place on a platter, sprinkle with sesame seeds.
4. Serve with a little soy to dip.
Share this:
More Food & Drink / Recipes