How To Make Salt-Crusted Snapper
Have fun smashing through the crusty salt casing to reveal the moist fish within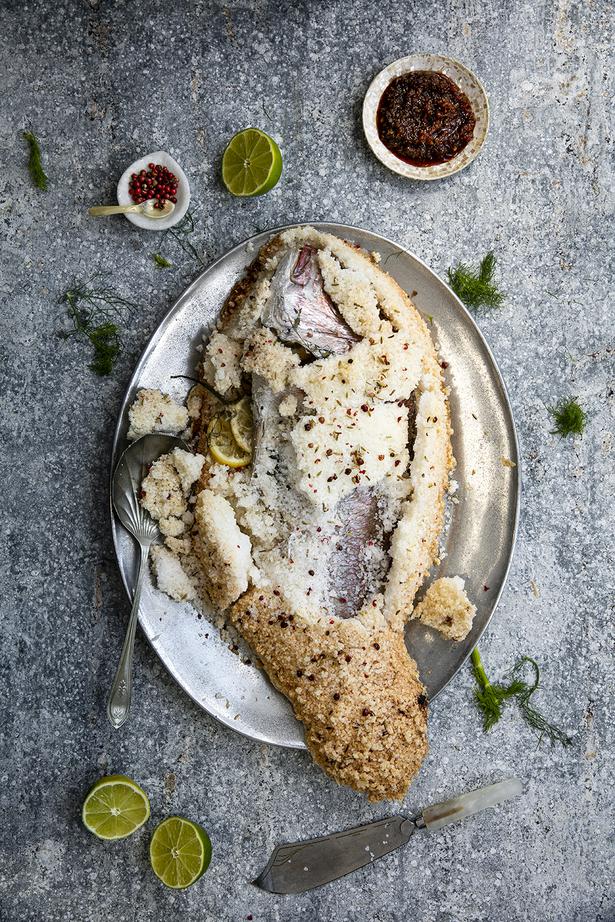 Sunday June 26, 2022
For this recipe I've infused the salt with pink peppercorns, using egg whites to bind the salt and encase the fish. This keeps every bit of moisture inside, eventuating in a delightfully succulent dish.
SALT-CRUSTED SNAPPER RECIPE
Serves 4
1.5 kg snapper or other fish
3-6 slices lemon or lime
¼ fennel bulb, sliced
1½ kg coarse salt
2 tsp fennel seeds
2 tsp pink peppercorns
3 egg whites
Lemon and lime slices, to serve
1. Preheat an oven to 180C.
2. Make sure the fish is gutted, cleaned, washed and patted dry. Into the cavity place the lemon or lime and fennel.
3. In a large bowl combine the salt, fennel seeds and pink peppercorns. Stir through the egg whites, combining well.
4. Spread half the salt on a large oven tray that will fit the fish. Place the fish on top. Spread over the remaining salt, covering the fish with no holes. Bake for 35 minutes or until the salt is lightly golden and crusty.
5. The fun part: breaking into the fish through the salty crust.
Share this: