Salted Caramel Popcorn Semifreddo Recipe
An update on the Italian classic from Sean Connolly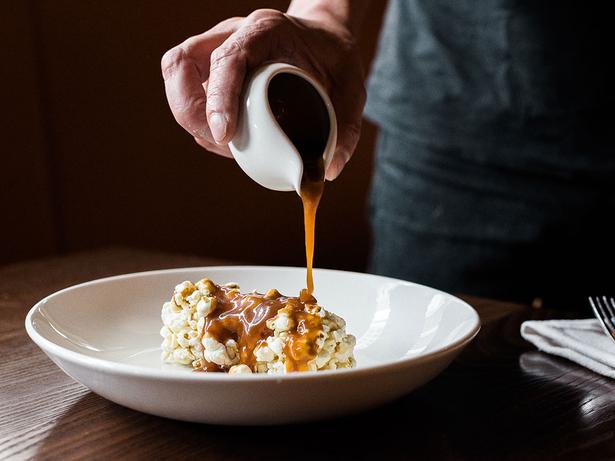 Wednesday June 3, 2015
SALTED CARAMEL POPCORN SEMIFREDDO
Makes 5 portions
For the semifreddo
• 120g caster sugar
• 4 egg yolks
• 170g creme fraiche
• 265g cream
• 80g hazelnut paste
1. Whisk sugar and yolks together until very light and pale. Meanwhile, whisk cream to soft peaks.
2. Fold together the yolk mix with the creme fraiche, hazelnut paste and then the whipped cream. Spoon the mix into a disposable piping bag.
3. Lay a sheet of cling film on the bench. Cut the end of the piping bag to about 3-4cm diameter and pipe the mix along the film. Roll the cling film to shape the semifreddo into a log and freeze.

For the salted caramel
• 500g caster sugar
• 120g butter
• 300g cream
• 10g salt
1. Place sugar in a saucepan over a medium heat and cook until it caramelises to a dark golden colour.
2. Add butter, cream and salt and stir over heat until sauce is smooth and lump free. Keep sauce warm.

To Finish
• 3 Tbsp popcorn kernels
1. Pop the popcorn and lightly crush.
2. Remove semifreddo log from freezer, cut into 5 pieces and allow to soften at room temperature for about 5 minutes. Roll logs in popcorn to coat and drizzle over salted caramel sauce.

• You'll be able to try this dish and more at an intimate dinner in the private dining room of Sean Connolly's Gusto at the Grand, part of this month's Ciaotearoa festival on Wednesday 17 June, put on by De'Longhi. Only 24 tickets available at $125, ph (09) 363 7030. For a full list of events see delonghi.co.nz.
Share this:
More Food & Drink / Desserts