Salted Caramel Slice Recipe
Rich sticky caramel on a crunchy polenta base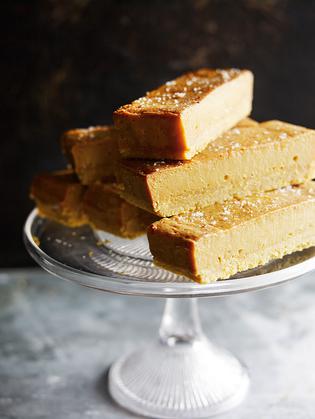 A variation of the classic caramel slice has a modern twist — a crunchy polenta base, rich sticky caramel, all finished off with a sprinkling of sea salt flakes.
SALTED CARAMEL SLICE
Makes eight pieces
Base
185 g (1 cup, lightly packed) light brown sugar
130 g (2/3 cup) fine polenta
110 g (3/4 cup) self-raising flour
1/2 teaspoon baking powder
135 g butter, melted
Filling
60 g butter, melted
90 g (1/4cup) golden syrup (light treacle)
2 x 395 g tins condensed milk
1/2 teaspoon sea salt flakes
1. Preheat the oven to 180C. Lightly grease and line the base and sides of an 11 x 34 x 2.5 cm rectangular loose-based baking tin with baking paper, cutting into the corners to fit and allowing the paper to extend about 2.5 cm (1 inch) above the sides.
2. For the base: Sift the sugar, polenta, flour and baking powder into a medium bowl, add the melted butter and mix until incorporated. The mixture will resemble fine breadcrumbs.
3. Press evenly into the prepared tin. Bake for 25–30 minutes until golden brown, then set aside.
4. For the filling: Combine the melted butter, golden syrup and condensed milk in a heavy-based saucepan, place over medium heat and stir constantly, especially scraping around the sides and edge of the pan to prevent sticking. Keep cooking and stirring for approximately 10–15 minutes until the mixture starts to thicken.
5. Pour over the base and spread evenly. Sprinkle with sea salt and bake for a further 20 minutes or until golden in colour. Leave to cool in the tin before slicing.
6. Cut into eight 4.25 x 11 cm pieces.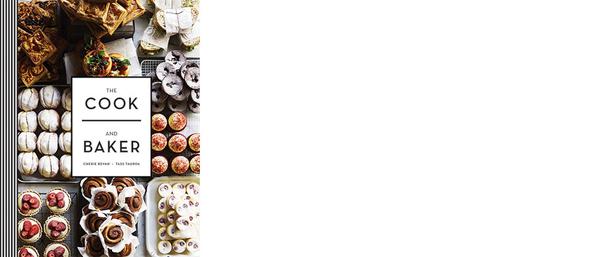 Share this:
More Food & Drink / Recipes