Salted Chocolate and Buckwheat Slice Recipe
Eleanor Ozich shares her recipe for salted chocolate and buckwheat slice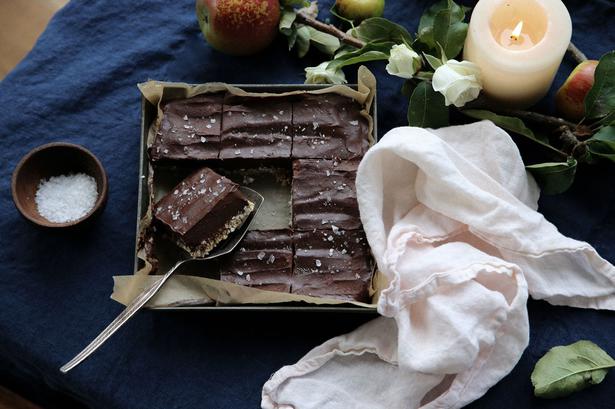 Thursday March 23, 2017
SALTED CHOCOLATE AND BUCKWHEAT SLICE RECIPE
Makes 9 slices

You'll be happy to know that this salted chocolate slice is sensationally delicious, as well as healthy. The filling contains the magical ingredient of avocado, creating a sensuously rich ganache that's not overly sweet. There's also no cooking required, just good, pure ingredients
INGREDIENTS
For the base:
¾ cup buckwheat groats
¾ cup rolled oats or ground almonds
2 Tbsp honey, maple or rice malt syrup
3 Tbsp coconut oil
A pinch of sea salt
For the filling:
1/3 cup coconut oil, melted
¼ cup honey, maple or rice malt syrup
Flesh of 1 avocado
1/3 cup coconut cream
½ cup cocoa
For topping:
Flaky sea salt
METHOD
1. To make the base, place all ingredients in a bowl, and mix to combine. Press mixture evenly in to a small tart tin, lined with baking paper
2. To make the filling, place all ingredients in to a food processor, and process until smooth. Tip the mixture in to the tin, and spread out evenly using a spatula. Sprinkle liberally with flaky sea salt.
3. Place in the freezer to set for at least 3 hours or overnight.
4. Thaw for 20-25 minutes before serving, and slice in to squares. Store in the refrigerator (will keep for up to three days).
Be inspired by the good things in life. Sign up now to receive emails from Viva, and twice a week you will be sent the latest news, profiles, videos, fashion shoots, competitions and more.
Share this:
More Food & Drink / Desserts