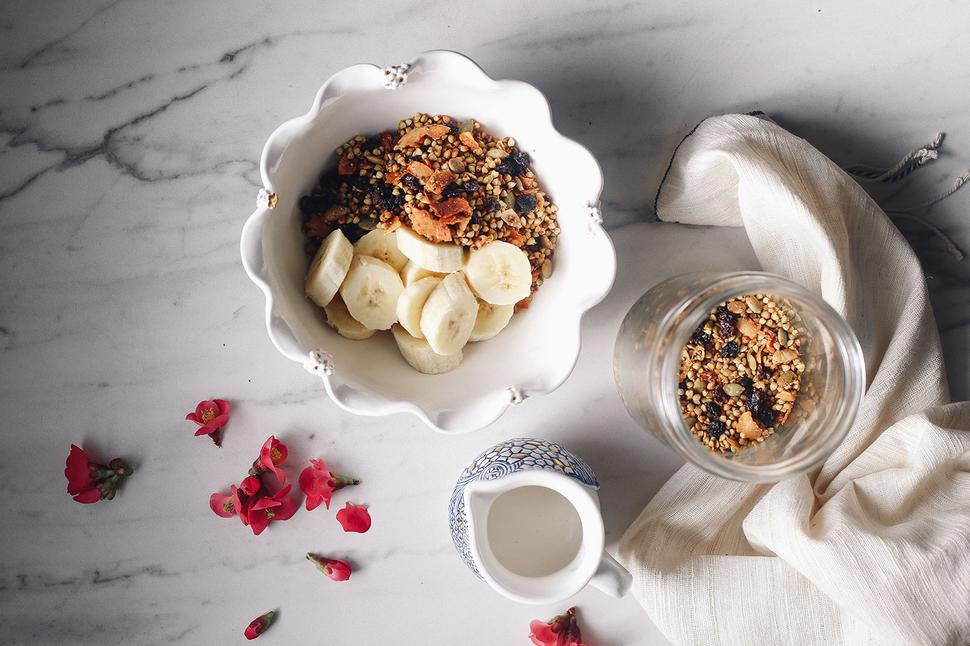 Salted Maple Buckwheat Muesli
This wholesome salted maple buckwheat muesli celebrates delicate, earthy flavours
Thursday April 25, 2019
Each time I make this golden toasted muesli, it never quite looks the same. That being said, I do love its changeable nature, and how I can endlessly be switching out ingredients, and it will still magically turn out delicious. I've used buckwheat groats as the base on this occasion, as I love their delicate, earthy flavour, although wholegrain oats or spelt flakes are another option.
SALTED MAPLE BUCKWHEAT MUESLI
Ingredients
2 Tbsp almond butter
2 Tbsp maple syrup or honey
3 Tbsp melted coconut oil
2 tsp pure vanilla bean extract
2 cups buckwheat groats
1 cup coconut flakes
½ tsp of sea salt
1 cup dried fruit of your choice, I like figs, currants or blueberries
1. Preheat the oven to 180°C.
2. Combine all the ingredients except for the dried fruit in a large mixing bowl. Mix until well combined, then spread the mixture out evenly on a large tray lined with baking paper.
3. Roast for 15-20 minutes, turning the mix with a wooden spoon once or twice, to ensure it browns evenly.
4. Leave to cool, mix through the dried fruit, and transfer to a large glass jar or airtight container.
5. The granola will keep for up to 6 months stored in the pantry.
Share this: