Samosas Recipe with Indian Tomato Sauce
These pea and potato samosas are served up with a delicious tomato kasundi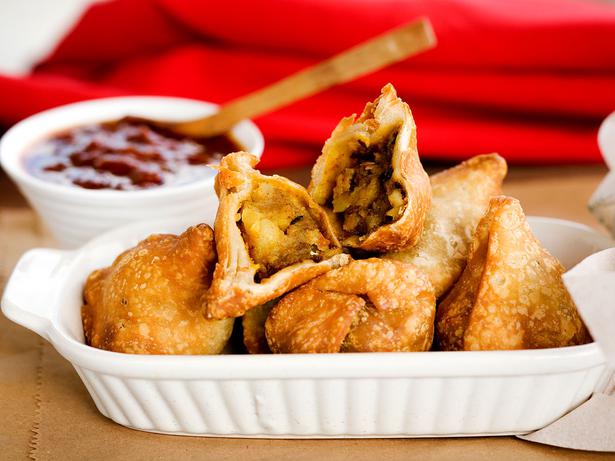 Wednesday Nov. 9, 2011
These pea and potato samosas are served up with a delicious tomato kasundi - a spiced Indian tomato sauce that will be a perfect addition to your condiments. The kasundi recipe makes 2 cups.
SAMOSAS WITH INDIAN TOMATO SAUCE
Serves 4

Samosas
1 packet Puff pastry, pre-rolled sheets
2 cups Potatoes, peeled and finely diced
2 Tbsp Vegetable oil
3 Garlic cloves, crushed
1 Onion, finely diced
1 tsp Cumin seeds
1 tsp Chilli powder
3 tsp Curry powder
½ cup Frozen peas
1 Egg
Kasundi (Indian tomato sauce)
1½ Tbsp Vegetable oil
1 Tbsp Ground turmeric
2 tsp Ground chilli
1 Tbsp Ground cumin
1 Tbsp Fresh ginger, finely chopped
1 Tbsp Garlic, finely chopped
2 Onions, finely chopped
130 ml Malt vinegar
1 kg Tomato, ripe, or use 2 x 400g cans of tomatoes
½ cup Brown sugar + add to shopping list
1. To make the samosas, defrost the pastry sheets and set aside.
2. Boil the potato in salted water then drain.
3. Heat a frying pan, add the oil then the garlic, onion, cumin, chilli and curry powder until the onion is soft. Add the potato and frozen peas and cook until the peas are soft. Salt to taste. Cool filling.
4. Preheat the oven to 200C. Cut the pastry into 15cm circles, then cut each circle in half. For each samosa, brush the edge with water then make a cone shape around your finger. Seal the edge and put in the filling then press the two edges together to seal. Repeat. Brush the surface with a beaten egg.
5. Lightly grease an oven tray and arrange the samosas then bake approximately 15-20 minutes or until golden.
6. To make the kasundi, heat the oil in a saucepan then add the turmeric, chilli, cumin, chilli, ginger and garlic. Stir over a gentle heat for 5 minutes.
7. Add the onion and the vinegar then the tomatoes and sugar.
8. Stir all together and simmer for 1¼ hours, stirring occasionally. Add salt to taste. Pour into sterilised jars or keep in the fridge.
Share this:
More Food & Drink / Recipes