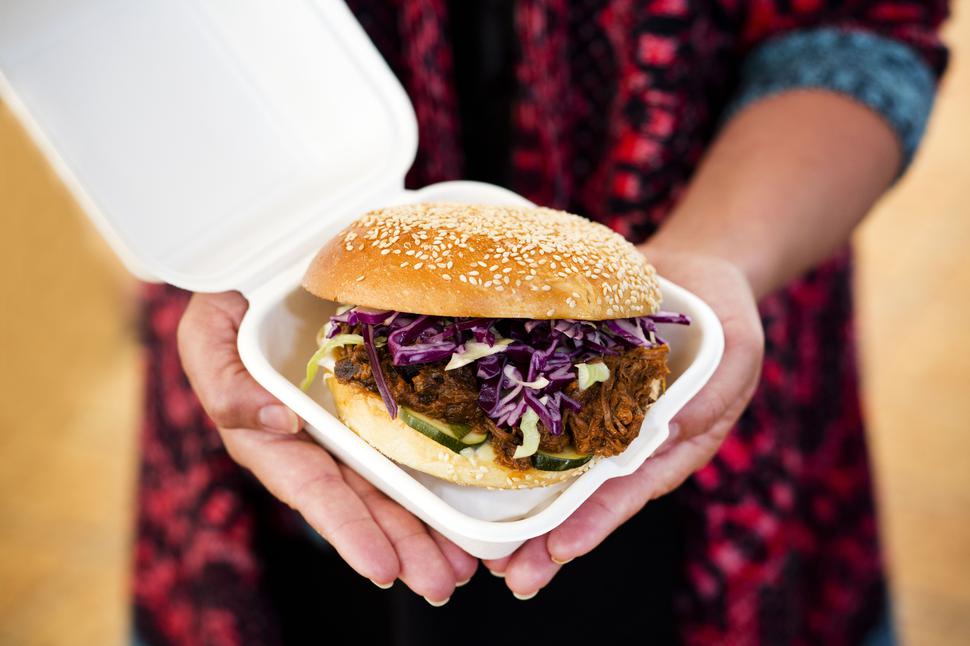 Sandwich Scouting with the Viva food team
Where do we go when we need a good sandwich fix?
Tuesday March 10, 2015
Babiche Martens, photographer
"A great lunch option is the barbecue beef brisket sandwich with red cabbage slaw and zucchini pickles from Honeytrap (above). It's a really generous serving full of deliciously tasty and juicy meat. Love the pickles, too." 
•  Shop 22, St Kevin's Arcade, 183 K Rd, City.
Nici Wickes, food editor
"I go to the Rabbit Hole for nothing other than their chicken club sandwiches. They are perfect in every way; creamy with chunks of roasted chicken, a little bit crunchy with diced celery (a must in chicken sandwiches in my view) and ever so slightly sweet. I always buy two at a time to take away and scoff them in my car almost immediately. It's testimony to their glory that I will go out of my way to swing in as the cafe itself has few other redeeming features these days. But the lure of their chicken clubbies still gets me!"
•  203 Jervois Rd, Herne Bay.
Amanda Linnell, editor
"I'm loving the barbecue pork banh mi from the recently-opened Vietnamese spot Mi. The freshly made baguettes are irresistibly crunchy, and the fillings are delicious — make sure you say yes to all of them."
•  66 Victoria St West, entrance on Federal St.
Lucy Casley, digital and design assistant
"An old favourite is the chicken mayo pide from Orvieto. Full of delicious flavours, this creamy sandwich is served toasted with a generous side of salad if you're dining in."
•  935A Mt Eden Rd.
Fiona Ralph, writer
"While not technically a sandwich, the filled breads from the recently rebranded Francesca's Pizzeria (formerly The Chevron) are off the hook. I have been known to take one to the beach to scoff with cheese running down my face. Literal sandwich heaven."
•  201 Pt Chevalier Rd, Pt Chevalier.
Angela Casley, recipe editor
"I love the warm cajun chicken sandwich from Frasers, with avocado, tzatziki, hummus and mango lime salsa. Always predictably delicious, and made to order, with the chunky salsa adding a nice twist to the fresh pide."
•  434 Mt Eden Rd, Mt Eden.
Anna Lee, editorial assistant
"I always get the roasted eggplant sandwich from Giles Luncheonette. A deliciously filling vegetarian option, with the eggplant and feta making a nice change from the usual bland and boring vegetarian offerings."
•  21 Shortland St, City.
Share this: