Recipes to Make You Feel Good
Sarah Tanner of Greenleaf Organics shares recipes from her new cookbook GLO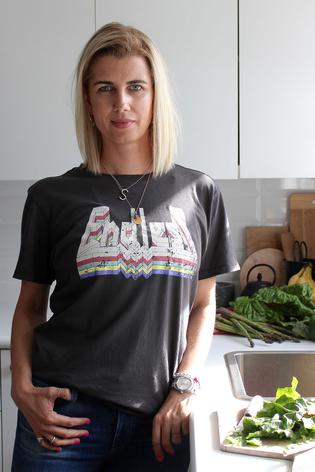 We love the new cookbook from wellness expert Sarah Tanner, co-owner of the stylish Greenleaf Organics Cafe in Kingsland. Beautifully designed and photographed, it features dozens of easy organic and vege-rich recipes alongside Sarah's vitality tips. She promises most of the recipes can be made in 30 minutes or less, and that the ingredients are approachable and affordable. Here, she shares some of the recipes from the new book. 
GLO FROM WITHIN SMOOTHIE
Serves 2
I was in two minds whether to include this blend in here, as I realise it will seem like some crazy witches' brew to many people. But, I really don't like to keep secrets, and the benefits I get from starting my day with this glass of pure sparkle is quite stunning.
My skin is clear, my energy boosted but balanced, eyes bright and mood positive and fizzing for the beautiful day ahead.
It will seem like a big investment getting all these herbs, (my fave brand is Organic India), however, where would you rather spend your money, at the doctors office, or sitting in the sun, sipping this green gold goodness GLOing from within?
Ingredients 
2 cups spinach leaves, or silver beet or kale
1 kiwifruit, peeled
Thumb-size knob of fresh ginger root
1 lime, peeled
1 Tbsp fresh mint leaves
1 banana
A pinch of Himalayan mineral salt
500ml pure spring water
1 tsp flax oil
1 capsule each of the following, broken into the blender: triphala for digestive health, reishi for immunity, curcumin for anti-inflammatory and joint health, shatavari for hormone health, ashwagandha for adrenal health, tulsi (holy basil) for beauty and anti-stress, a dairy-free probiotic (I like Inner Health Plus)
Method
With a toss and a twirl, a giggle and squeal, throw all the ingredients into the blender, starting with the powders from the capsules first. Blend until smooth as silk. Hocus pocus, alakazam … and boooooooom! Like magic you are ready to make some amazing happen.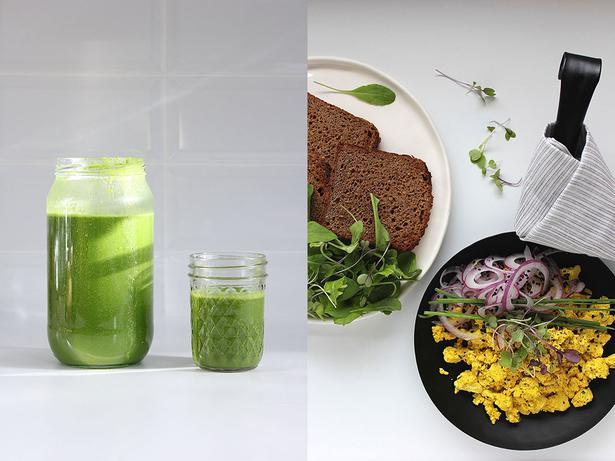 MEDICINAL TOFU SCRAMBLE 
Serves 4

The last animal product I clung onto was eggs. I thought, how can I live without eggs? Now I realise, I can and do with great ease, and so can you. This is a fast, nutritious and completely cruelty-free solution. It's essential that the tofu is organic and non-GMO.
Ingredients
2 packs of organic, non-GMO tofu (I love the Tonzu brand here in New Zealand)
1 Tbsp coconut oil for cooking
1 tsp ground turmeric
1 tsp nutritional yeast
½ tsp garlic powder
½ tsp onion powder
1 red onion, finely sliced
A handful of rocket leaves for each serve, spinach leaves would work well too
A few stems of chives for each serve
Garnish of micro greens for a little extra peppery kick
Sprinkle of black sesame seeds, optional
Himalayan salt and pepper to taste
Method
Heat the coconut oil in a pan over a medium to high heat, crumble the tofu into the pan. Add the turmeric, nutritional yeast, garlic and onion powder and stir through to combine. Serve with your chosen garnishes on hot toast of your toast. I love Were Bros.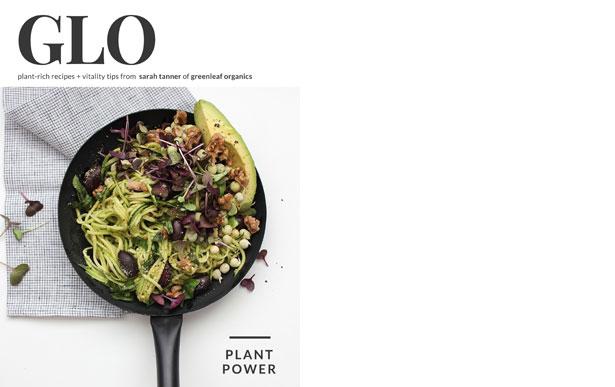 • GLO Cookbook, $35, available from Greenleaf Organics Cafe (326 New North Rd, Kingsland) or online at greenleaforganics.co.nz
Share this:
More Food & Drink / Recipes