The New Satya Spice Shop
The Satya Spice Chai Organic Foods Shop is the newest addition to Sandringham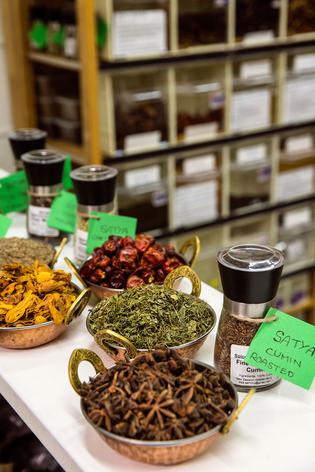 Variety really is the spice of life in Sandringham. The Satya Spice Chai Organic Foods Shop is the new venture from Swamy Akuthota, who, with wife Padmaja, owns four Satya restaurants in Auckland. Located in the alleyway behind the Sandringham Satya, the store sells up to 80 spice mixes, including the popular product after which the store is named.
"This has always been my dream," he says.
Customers can buy single spices or blends — everything from dark-roasted cumin to garam masala, salt and fennel or a Chettinad mix, named after the Southern Indian region famous for its hot, aromatic cuisine. Or you can create your own.
Many standard packet spices often don't reach our plates for several months, losing their oil resin that keeps them "alive". Likewise, cloves and other spices often have their sought-after oils extracted before being ground — "So the essence is gone," says Swamy.
His commitment to freshness means the spices retain their oils before they're crushed in an electric grinder and roasted in front of you, giving their flavour a "totally different dimension". The mixes have been formulated to add to lentils, vegetables, meats and seafood. Others are suitable for stocks, curries, stir-fries or barbecues.
Perhaps just as special as the spices themselves are their glass jars, each with a ceramic grinder, designed to dispense the flavours at the exact coarseness you desire. The store also sells organic products, such as coconut oil and teas. 

• Satya Spice Chai Organic Foods Shop, behind Satya at 515 Sandringham Rd, Sandringham. Ph 021 301 040.
Share this:
More Food & Drink / The Latest