Savoury Green Herb Crepes with Chicken Filling Recipe
These green herb crepes with chicken filling are perfect at lunch with a glass of chilled white wine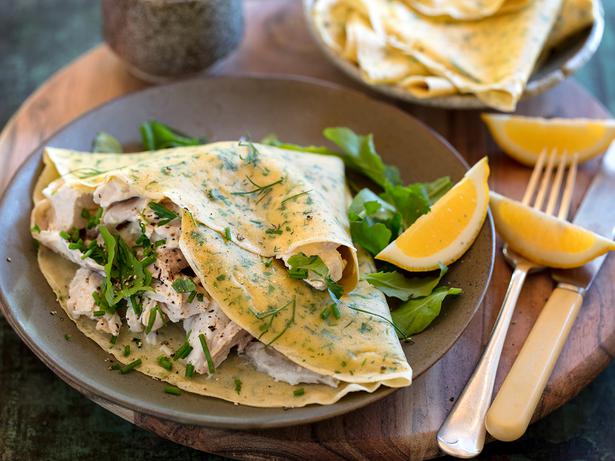 Friday Aug. 25, 2017
This is a good basic recipe for sweet or savoury pancakes, which you can keep coming back to. Here they work as a vessel to hold a light chicken mixture (a good way to use leftovers), perfect for lunch with a glass of chilled white wine on a gorgeous spring day.
SAVOURY GREEN HERB CREPES WITH CHICKEN FILLING RECIPE
Makes 6-7
Crepes
1 cup plain flour
Pinch salt
2 eggs
1½ cups milk
½ cup chopped fresh herbs
Filling
½ cup mayonnaise
½ cup Greek yoghurt
¼ cup apricot chutney
1 Tbsp lemon zest
4 cups shredded cooked chicken
Salt and freshly ground pepper
2 Tbsp chopped fresh herbs e.g. chives, dill parsley
2 cups rocket
Lemon wedges to serve
1. Place flour, salt, and eggs in a large bowl. Whisk in the milk in two or three lots until the smooth. Stir through the herbs.
2. Heat a crepe or heavy-based pan to a medium heat. Grease the base a little. Pour in some batter and swirl around the pan spreading it thinly. Cook until the edges come free, then flip and cook for 2 minutes on the other side. Continue with the remaining batter.
3. For the filling, combine mayonnaise, yoghurt, chutney and zest in a large bowl. Stir in chicken, salt, pepper, herbs and rocket.
4. Fill the crepes folding over as you go.
5. Serve with a lemon wedge to squeeze over.
Share this: