Scotch Eggs Recipe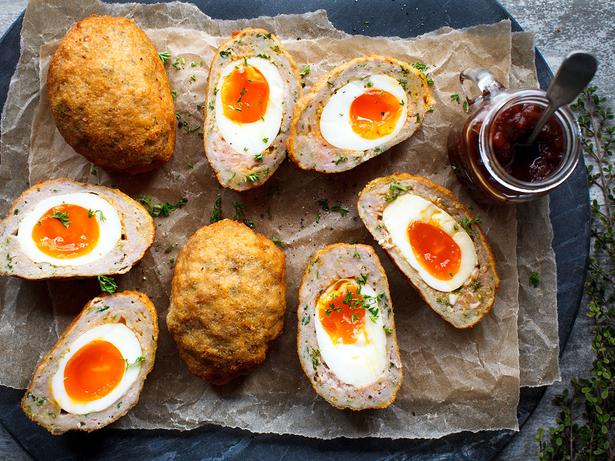 Thursday Dec. 17, 2015
Scotch eggs were always a part of our childhood picnics. With time, however, they disappeared from the menu and were replaced with home-made sausage rolls or, more glamorous, quiches. Well, now they have made a comeback. On a recent trip to London, I saw them being served in stylish delis and cafes. The key to making Scotch eggs is to use good quality sausages. Plus, they can be made well ahead of time.

SCOTCH EGGS RECIPE
Makes 8
• 8 eggs boiled for 4 minutes (if you like them soft) or 8 minutes (hard)
• 8 good quality sausages
• ½ tsp curry powder
• 1 tsp Dijon mustard
• ¼ cup chopped herbs (parsley, chives)
• 1 tsp salt, freshly ground pepper
• Flour for dusting
• 2 eggs, lightly whisked and seasoned
• 2 cups breadcrumbs
• Oil for cooking
• Chutney to serve
1. Boil the eggs to your liking. Cool and peel carefully to keep them whole.
2. Split the sausages and squeeze all the meat out into a large bowl. Add the curry powder, mustard, chopped herbs, salt and pepper. Combine well using your hands. Divide the mixture into eight.
3. In the palm of your hand, flatten one of the balls of sausage meat. Place an egg in the middle, then encase it with the meat, carefully sealing the edges together. Damp hands help with this process. Continue with the remainder of the eggs.
4. Dust in flour, then dip in the egg and breadcrumbs to cover the whole ball. Place in the fridge for at least 30 minutes.
5. Fill a pot or deep fryer to ¾ with flavourless oil. Bring it to 170C, or when a bit of bread floats to the top it is ready. Place 2 or 3 scotch eggs in and cook for five minutes. If they brown too quickly the oil may be too hot.
6. The Scotch eggs may be eaten warm, or cool and refrigerate until needed. Serve with your favourite chutney — mine is tree tomato.
Share this:
More Food & Drink / Recipes