The North Canterbury Cider Company Doing Things A Little Differently
Jo Burzynska is led astray by the latest ciders from Scoundrels and Rogues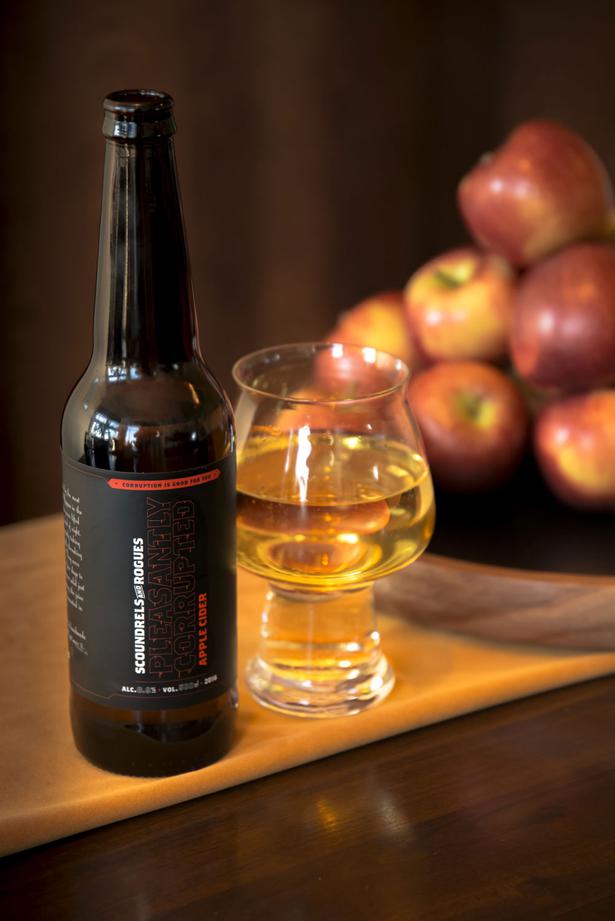 Saturday July 21, 2018
Something funky has been afoot among the apple orchards of North Canterbury. Since their first vintage back in 2013, the Scoundrels and Rogues behind these activities, have been releasing some of the most intriguing ciders currently made in New Zealand. They're a refreshingly nonconformist antidote to many mainstream examples and are a testament to just what a complex beverage cider can be when crafted by the right hands.
In this case, those mitts belong to Paul Donaldson, the label's chief scoundrel and cider-maker, who hails from a family most famous for their wine. His approach oscillates between hands-on — it initially involved wielding a sledgehammer — and hands-off.
READ: Why Growlers Are The 'Future Of Craft Beer' & Where To Fill Yours
"The first time I made cider, I literally smashed the apples with a sledgehammer, accidentally froze the pulp, pressed it, and put it in a barrel and promptly forgot about it, " Donaldson recalls. "It created a rather funky style, but one that I really liked, so I have continued with making cider from barrel aged juice — 18 months in barrel normally — with only wild yeasts, and very minimal amounts of S02 [that's the widely used preservative, sulphur]. I think this creates a far more complex, and funky result, and something that sets it apart from a lot of the more commercial styles you see on the market."
This funkiness gives rise to the label's strapline "Corruption is good for you". The noble corruption in Scoundrels and Rogues ciders makes for far more exciting flavours than the raft of ciders that cheat by using concentrate rather than fresh apples. And there's certainly no need here for the extra flavourings that can prop up lesser inherently characterful ciders.
READ: The Rise And Rise Of Cider
Donaldson's wine background can be discerned in the label's decision to make small batches of cider just once a year at harvest time, each released with a vintage year. Only fresh fruit is used — from their own trees or others' orchards — which go on to be matured in barrels.
While Scoundrels and Rogues set out to make only one cider initially, in 2014 that became two, and has now grown to five plus a pear cider, as they explore the options offered by keeping all their batches and barrels separate. As I was wowed by the first Scoundrels and Rogues cider I sampled some years back, I was interested to try their expanded range. This saw my excitement multiplied.
Scoundrels and Rogues "Pleasantly Corrupted" Cider 2015 500ml
Can cider compete with the complexities of wine? Pleasantly Corrupted certainly makes a strong case and is my pick of the extremely impressive latest Scoundrels and Rogues crop. It's the third release of the label's original style made from a blend of heritage and dessert apples that have undergone a wild fermentation in French oak barrels, before being left there on their yeast lees for 18 months to build complexity, which it has. The result is a richly textured cider with concentrated flavours reminiscent of ripe musky apples, tarte tatin and nut butter. Its sweetness is perfectly counterpoised by a crisp green apple acid, and there's a touch of structuring tannins. Seriously good cider.
Scoundrels and Rogues "Cold Shoulder" Ice Cider 2016 375ml
A dead ringer for dessert wine, this Ice Cider was made from the best barrel of juice that was frozen to concentrate the sugars. Lusciously sweet, rich and honeyed, its viscous palate oozes notes of baked apple, ripe stone fruit and sweet spice, balanced by a brisk lemony acidity. Decadently delicious.
Scoundrels and Rogues Apple Cider 2016 330ml
Bright and juicy, this is an appealing mid-weight cider with fresh red apple aromas and flavours of spiced apple pie. Its gentle sweetness is well balanced with a bite of appley acid and its easy drinking character belies its beefy 8.9% ABV.
Scoundrels and Rogues "Repeat Offender" Dry Cider 2015 500ml
Aromas of butterscotch lead into a dry but not austere cider that's been mellowed by its time in barrel. On the palate there are notes of green apple skin, fresh apples, a lightly toasty caramelised character and a zingy citrus freshness.
Scoundrels and Rogues "Evil Genius" Imperial Cider 2016 500ml
Made from a barrel selection of the biggest and boldest batches from the vintage, this Imperial Cider has a rich dense palate, with musky toffee apple fruit and a sweetness that's balanced by a fresh lift. At 10.9%, this is strong stuff, but its alcohol sits well within its concentrated palate.
Scoundrels and Rogues "Morally Bankrupt" Pear Cider 2017 500ml
Like biting into a fresh just-ripe pear, this attractive pear cider is delicate, clean and crisp with white fruits and a light spritz. It's made with the same "Méthode Traditionelle" used for top sparkling wines from the fruit of a few ancient pear trees.
Share this:
More Food & Drink / Wine & Drink