New Opening: The Pink Flamingo at Seafarers
Fancy an espresso martini float with liquid nitrogen ice-cream? Head to Seafarers this weekend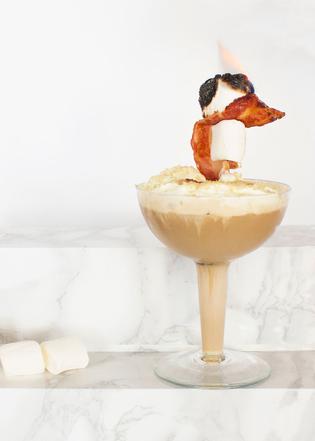 Fancy an espresso martini float with liquid nitrogen ice-cream and flaming candied bacon? How about a spiked egg cream with elderflower and burnt orange?
Now's your chance to indulge in adults-only sweet treats when Seafarers transforms into modern-day soda fountain The Pink Flamingo this weekend.
Jessica Mentis, the "Jellyologist" who wowed us on Instagram with her wobbly retro puddings, has turned her hand to boozy desserts, whipping up floats, sundaes and icecream sandwiches that will blow your mind (or at least have you feeling a little giggly).
The event takes inspiration from early 20th century New York soda pharmacies, where the beverages were as tempting as they were, um, healthy. So there's probably no "energy restoring" cocaine-infused Coca-Cola on this menu but there will be icecream from Nitro Cow Gelato, plus a sort of naughty sushi train: a conveyor belt with revolving soda bar-inspired toppings. The desserts will be served in true soda jerk style, with plenty of cheeky flair.
• The Pink Flamingo runs Friday and Saturday. Tickets are $50 for a one-hour experience and your choice of three soda jerk creations. The event is part of Seafarers' summer series (see seafarerssummer.co.nz for ticketing and more info).
Share this:
More Food & Drink / Wine & Drink