Seared Steak Recipe with Broccoli and Spinach
Made in a matter of minutes, seared steak is perfect for a quick dinner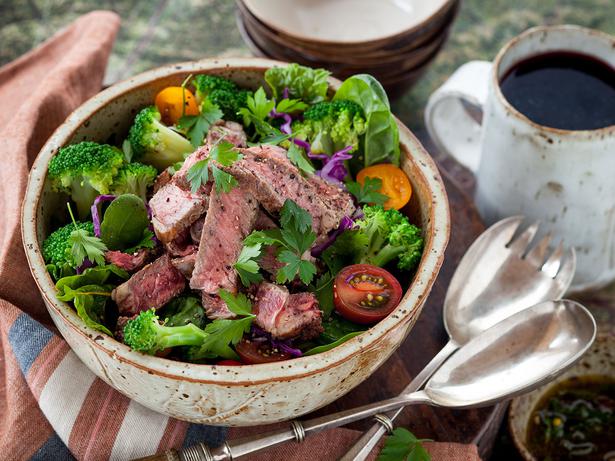 Friday May 13, 2016
SEARED STEAK RECIPE WITH BROCCOLI AND SPINACH
Serves 4
• 1 head broccoli, cut into florets
• 600g scotch fillet steaks
• 1 Tbsp olive oil
• Salt and freshly ground pepper
• 2 cups shredded red cabbage
• 100g spinach leaves
• 1 cup cherry tomatoes, halved
Dressing
• ¼ cup olive oil
• 1 Tbsp sesame oil
• 2 Tbsps balsamic vinegar
• 1 Tbsp runny honey
• 1 garlic clove, crushed
• ¼ cup chopped coriander
1. To make the dressing combine all ingredients in a bowl.
2. Bring a pot of salted water to the boil. Cook broccoli for 3 minutes until just cooked, but still vibrant green. Drain well.
3. Rub steak with the oil and season well.
4. Heat a frying pan to a high heat. Sear steak for 2 or 3 minutes each side depending on the thickness. Set aside to rest for a few minutes.
5. In the same frying pan toss cabbage, broccoli, spinach and tomatoes briefly to warm.
6. Slice steak, add to salad, pour over dressing and toss through.
Share this:
More Food & Drink / Recipes