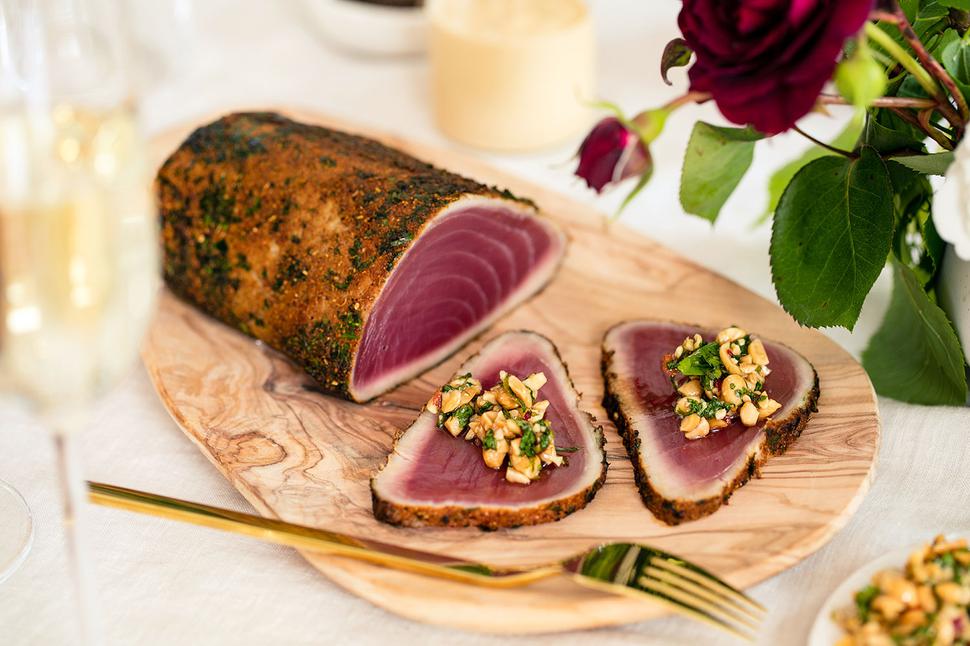 Seared Tuna With Tamarind, Coriander & Ginger
Simple yet impressive, this seared tuna will be the star of your Christmas table
Friday Nov. 30, 2018
This seared tuna recipe is something a little extra special for Christmas entertaining. Luxurious, tasty and decadent, the Asian flavours are a perfectly fresh way to start the meal. Sear it on all sides very quickly, cool, then slice very thinly. A little will go a long way to feed a larger group. The tasty ginger, tamarind, coriander and peanut topping is a taste sensation.
SEARED TUNA WITH TAMARIND, CORIANDER & GINGER RECIPE 
Serves 8-10
750g tuna fillet
1 Tbsp olive oil
2 Tbsp chermoula spice
1 Tbsp chopped coriander
1/2 tsp salt

Topping
1 Tbsp brown sugar
2 Tbsp tamarind paste
1 Tbsp grated ginger
1 cup chopped coriander
1 cup chopped toasted peanuts
Zest and juice of 1 lime
1/2 chilli, chopped finely
Pinch of salt

Sauce
1/2 cup mayonnaise
2 tsp soy sauce
1. Rub the tuna with oil. Place the spice, coriander and salt on a piece of baking paper, then roll tuna in the spice mix.
2. Heat a barbecue hotplate to high. Sear the tuna on all sides for 30 seconds. Remove and cool completely. Refrigerate until ready to serve.
3. For the topping combine the sugar, tamarind, ginger, coriander, peanuts, lime, chilli and salt.
4. Combine the mayonnaise and soy sauce.
5. Slice the tuna thinly and serve with topping and a dollop of soy mayonnaise.
Share this: