Seed and Nut Crackers with Avocado Dip Recipe
Try these crackers and dip for the perfect healthy snack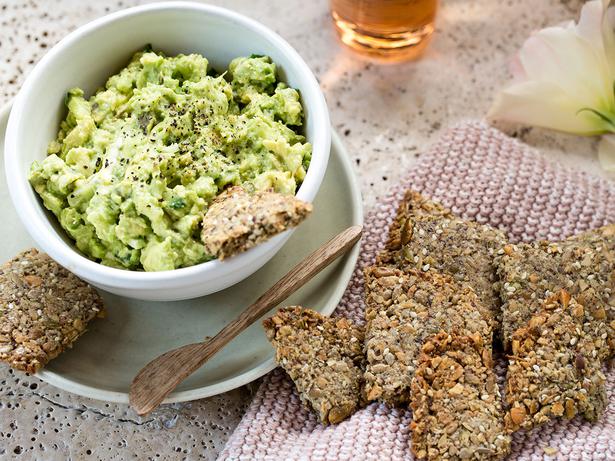 Friday Feb. 3, 2017
These seed and nut crackers are so moreish you don't really need a topping. Here, however, I have topped them with homemade avocado dip. Another more decadent option is delicious blue cheese and a drizzle of honey. Vary the seeds you use — these crackers can be a good way to use up the annoying dregs you often have left in the bottom of a packet.
SEED AND NUT CRACKERS WITH AVOCADO DIP RECIPE
Makes 20
½ cup raw almonds
¼ cup LSA
½ cup sunflower seeds
½ cup pumpkin seeds
¼ tsp salt
2 Tbsp oil
2 Tbsp water

For the dip
1 avocado
Zest and juice of ½ lemon
1 clove garlic
2 Tbsp chopped coriander
1 tsp chopped green chilli
1. Preheat oven to 180C.
2. Into a blender, place the nuts, LSA, seeds, salt, oil and water. Blitz until it is starting to stick together like dough.
3. Press the mixture on to the tray lined with baking paper and roll until cracker thin. Cut into crackers without cutting right through.
4. Bake for 20 minutes. Cool on the tray before breaking into pieces.
5. To make the dip, mash the avocado, lemon, garlic, coriander and chilli together in a bowl 10 minutes before serving.
Share this:
More Food & Drink / Recipes