The Sell-out Project Botanicals Is Back
Project Botanicals is back, this time with Michael Meredith and innovative cocktails matched with exotic dishes
SPONSORED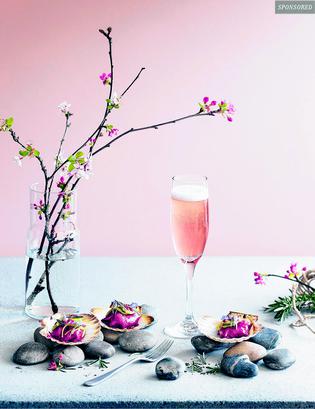 Forget sangria or tempranillo; it was Chase Bickerton's lemon peel-inspired gin cocktail that took Michael Meredith straight to Spain. "My first thought was jambon and melon," says Michael, seated at a table in his Dominion Rd restaurant, Merediths.
Ham and fruit on a toothpick? Not quite. The chef infused smoky Spanish pig with vegetable broth, compressed honeydew with rockmelon and cucumber to intensify its sweetness and highlighted the cocktail's nutty notes with a cashew cream "to give a savouriness and a clean richness". Then he added blanched walnuts and dried jambon on top.
That may sound like something from the top chef's renowned degustation menu but instead it's bound for Project Botanicals, the two-week pop-up culinary experience returning for a second year. Innovative gin-based concoctions are matched with exotic dishes designed to bring out the flavour profile of the spirit. Last year the event was a sell-out, suggesting a willingness for consumers to transcend your traditional food and wine pairing, and an appreciation for the magical things that happen on our tongues when unusual flavours align.
Bombay Sapphire ambassador and mixologist Chase Bickerton has once again created 10 new cocktails, inspired by each of the gin's 10 botanical flavours; Michael has then used these to create for the plate. It's a similar process to wine-matching, says the chef, in that he always starts with the drink first. This year Project Botanicals will be held at 5 Galatos St, where Michael also co-runs the charitable initiative Eat My Lunch.
"The botanicals are very interesting," says Michael. "I wanted to see how far you can push the food."
For former bartender and bar manager Chase, whose work as Bombay Sapphire's ambassador has taken him around the world and throughout the country running master classes and educational events, Project Botanicals is the most creative project on his calendar. If you can't quite pick out the coriander, citrus and liquorice in your gin and tonic, his more adventurous cocktails are designed to help along your taste buds. What about orris root (floral) cubeb berries (peppery) and grains of paradise (gingery)? Chase got around some of the obscure elements by thinking laterally — looking to their origins as well as their flavour.
Orris root, a palm-like plant, proved particularly challenging to work with.
"Generally it's used more as a flavour fixer," says Chase. "So we focused more on the artistry, the fact that orris root is used in the production of perfume."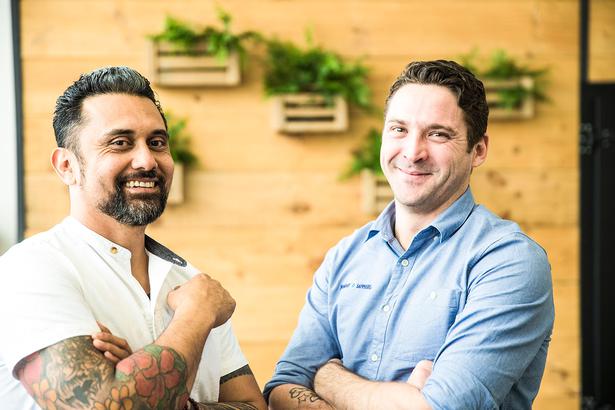 The result is a fizzy gin cocktail with aromatic qualities: the woody notes from prosecco, with raspberry and a hint of rosemary, garnished with a card sprayed with Prada perfume. Michael has matched it with an equally aromatic scallop tartare with chives, lemon oil and apple, wrapped in a dehydrated raspberry "fruit leather" with rosemary flowers and deep-fried rosemary leaves on top.
The tiramisu is another favourite that spun off from some creative thinking about the botanical cubeb berry, a pepper that grows in Java beneath the coffee trees. Chase drew inspiration from an Indonesian artist who incorporates coffee into his art, either painting on the leaves of the coffee tree or using the coffee itself as paint. Chase has removed the coffee from a "stirred down" espresso martini, before reintegrating it with the gin, Martini Bianco, a sweet white vermouth, plus chocolate liqueur and a hint of pepper. To dilute it he made a cubeb berry tea and added a couple of drops of orange bitters for balance.
"The key to the drink is that I've taken fresh espresso and blended it with agar using a molecular technique, and dropped that solution into a calcium bath, which gives you these tiny little coffee pearls that dance around in the glass."
So have the creative pair picked each other's brains on the finer details of culinary chemistry, or at least where to get the best passionfruit? Michael and Chase got to know each other a few years ago when Chase was running Mt Eden's "chef hangout", the Corner Store bar, when they'd talk hospo over a few drinks.
"Chase was always looking at new things and ways to evolve," says Michael. "He's always been open-minded so it's natural he'd come up with drinks that involve a bit of technique."
Events such as Project Botanicals are indicative of the trend toward provenance of flavour and the lure of premium products with an evocative back story. Bombay Sapphire is made in Laverstoke Distillery in England, the birthplace of Charles Dickens and Jane Austen, and the brand's spiritual home.
"Ultimately with spirits you're really bound only by your creativity and the products you've chosen," says Chase. "Bombay Sapphire has such a diverse profile with those 10 botanicals to be able to work from. It allows us to really create scope, so we're not just heading down a linear path. The whole purpose is to excite the audience."
• Project Botanicals will be open for two weeks from Wednesday, November 9 to Sunday, November 20, at 5 Galatos St, with sittings at 6.30pm and 8.30pm Wednesday to Saturday and 6pm and 8pm on Sunday. Tickets, $55, include two cocktails and two dishes, from iticket.co.nz
Share this: