Shaved Asparagus, Chive and Egg Sandwiches Recipe
Try this classic asparagus and egg sandwich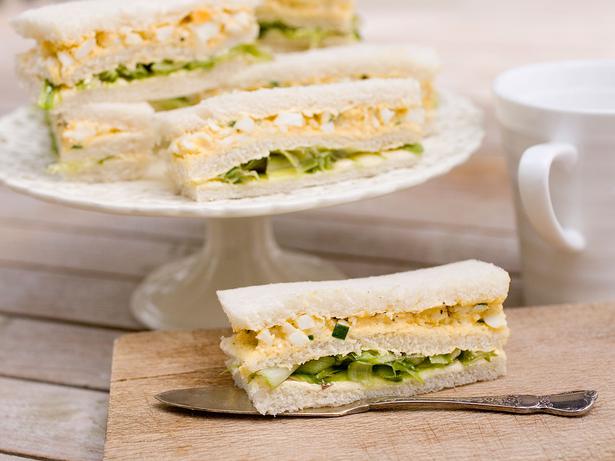 Monday Oct. 6, 2008
SHAVED ASPARAGUS, CHIVE AND EGG SANDWICHES
Makes 12
2 eggs 
1 Tbsp cream 
tsp finely grated lemon zest 
1 Tbsp chives, finely chopped or snipped 
Salt and freshly ground black pepper 
3-4 asparagus depending on thickness 
9 slices white sandwich bread or substitute any bread as long as it is thinly sliced 
Softened butter 
Dijon mustard
1. Place the eggs in boiling water and let cook for 4 minutes. Remove from the water and let cool. Peel, chop and put in a bowl with the cream, lemon zest, chives and seasoning. Mash with a fork until quite smooth then set aside.
2. Cut or snap off the ends of the asparagus. Using a vegetable peeler, peel long strips down the length of all the asparagus then set aside.
3. Butter each slice of bread. Place three slices on a board and spread lightly with mustard then pile on the asparagus; follow with another slice of bread then top with the creamed egg mixture. Cover with the third slice of bread then, using the sharpest knife available, remove the crusts and slice each sandwich cleanly into three.
Share this:
More Food & Drink / Recipes