Short Rib Recipe with Asian Spices
Try Angela Casley's slow-cooked short ribs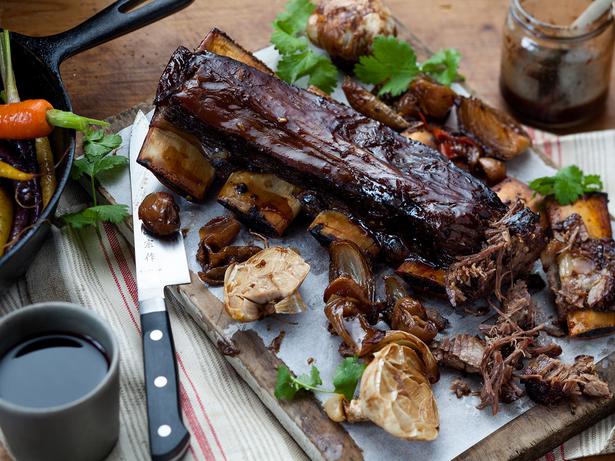 Thursday Aug. 11, 2016
As children we often had short ribs — slow-cooked with lots of onion and garlic until the meat fell from the bone and then served with a good buttery mashed potato and gravy. Here I have made the dish a little more eclectic and added Asian flavours. The result is the same, however, the meat falling from the bone tender and sweet. Don't rush the cooking of this, slow is best.

SHORT RIB RECIPE WITH ASIAN SPICES
Serves 4
Marinade
6 cloves garlic, crushed
1 chilli, chopped
1 onion, chopped
2 Tbsp grated ginger
¼ cup soy sauce
¼ cup plum sauce
1.5kg beef short rib
2 whole bulbs garlic
1 onion, cut in wedges
Salt and pepper
3 cups beef stock
Coriander leaves and stalks, for garnish
1. Prepare the marinade — combine the garlic, chilli, onion, ginger, soy and plum sauce in a small bowl. Place the beef in a flat dish and cover with the marinade. Cover with plastic wrap and leave overnight or for at least four hours.
2. Preheat an oven to 150C.
3. Remove the beef, reserving the marinade for later. Place the meat in an ovenproof dish. Suround it with the garlic bulbs and onion, season, and pour over the stock. Cover tightly and place into the oven for 3 hours, until the meat is falling from the bone. Remove the cover for the last 20 minutes. Let the ribs rest for 10 minutes before serving.
4. Heat the marinade in a small pot and brush over the meat before carving and serving.
Share this:
More Food & Drink / Recipes