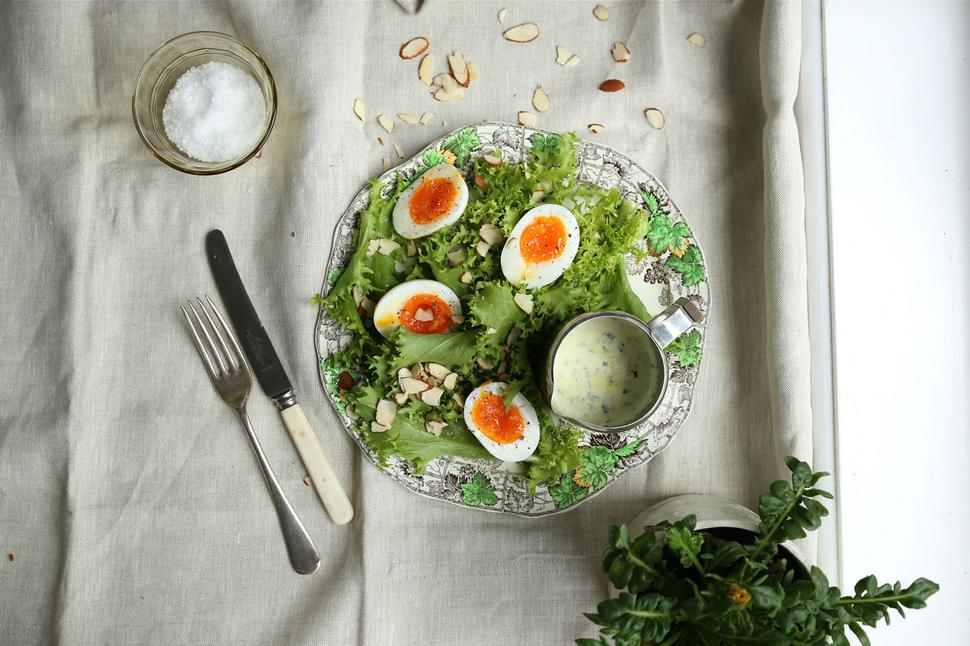 Simple Egg Salad Recipe
This salad from Petite Kitchen is simple yet delicious
Thursday Dec. 10, 2015
This simple egg salad recipe makes a rather elegant lunch. Curly endive is the star of this dish, with it's crisp leaves and slightly bitter flavour. Dress well in tangy buttermilk herb dressing.
SIMPLE EGG SALAD RECIPE
Serves 2
Buttermilk herb dressing:
1/2 cup buttermilk or natural yoghurt
1/4 cup extra virgin olive oil
A small handful of fresh dill, basil and parsley, finely sliced
Juice of one lemon
1 tbsp dijon mustard
1/2 finely sliced shallot
sea salt and pepper to taste
For the salad:
2-3 handfuls of curly endive lettuce
4 free range eggs
1/ cup silvered almonds
Bring a small saucepan of water to a soft boil. Carefully lower the eggs in and simmer uncovered for 5 minutes. Drain immediately and then run the eggs under cold water to cool. Peel each egg.
Combine dressing ingredients in a small bowl. Whisk until creamy, and then season to taste. Transfer in to a serving jug.
Gently rinse the endive lettuce in cold water, discarding any tough outer leaves. Soak the washed leaves in ice water for 10 minutes. This helps the leaves to become extra crisp. Drain and dry the leaves, and arrange on serving plates or in a large salad bowl.
Slice the eggs in half, and then place in and around the lettuce leaves.
Serve the salad with a generous drizzle of the dressing.
• For more from Eleanor Ozich see petite-kitchen.com 
Share this:
More Food & Drink / Recipes