Smashed Eggplant Recipe
Try this smashed eggplant cooked on an open flame with a tasty smoky flavour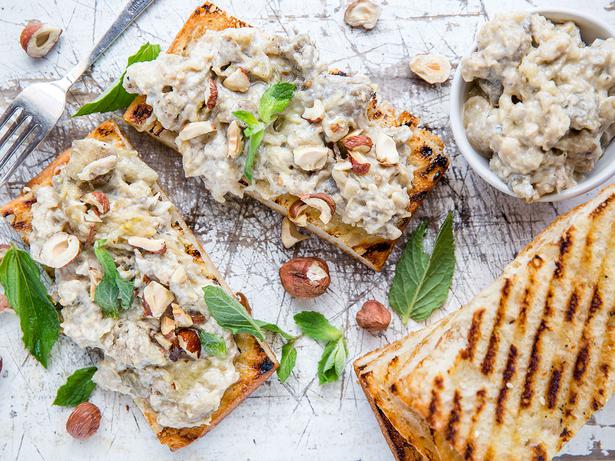 Friday Feb. 17, 2017
Eggplant is at its best and cheapest right now. Cooked here on an open flame, it has an addictive, slightly bitter, smoky flavour. This simple smash is perfect on top of freshly grilled bread topped with a little drizzle of your favourite olive oil. Try chopping fresh tomatoes and adding a pinch of chilli to spice it up. If you've kept the mint in the garden well-watered, some fresh leaves add a finishing touch, and a handful of chopped hazelnuts give a little crunch.
SMASHED EGGPLANT ON GRILLED TURKISH BREAD RECIPE
Makes about 2 cups
2 medium sized eggplants
1 garlic cloves, crushed
1 tsp ground cumin
¼ cup tahini
2 Tbsp Greek yoghurt
1 tsp lemon zest
2 Tbsp lemon juice
1 Turkish loaf, split horizontally
Olive oil
¼ cup toasted hazelnuts
½ cup mint leaves
1. Over an open flame, place the eggplants, turning until all sides are blistered and browned. This takes about 10 minutes. Stick a skewer into the centre to ensure it is soft through. Remove and cool enough to handle.
2. Split the eggplant in half. Using a spoon, scoop out the insides and place into a medium sized bowl. Mash roughly with a fork, then add the garlic, cumin, tahini, yoghurt and lemon stirring well.
3. Brush the Turkish loaf with oil and toast on a barbecue or grill pan.
4. Serve the warmed toast with smashed eggplant and a sprinkling of nuts and mint leaves.
Share this:
More Food & Drink / Recipes