Smoked Chicken, Avocado, Bacon and Walnut Salad Recipe
Angela Casley's quick throw-together salad is always a hit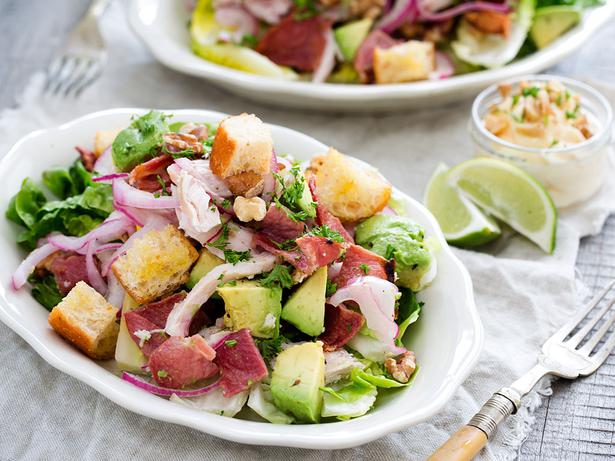 Wednesday May 20, 2015
SMOKED CHICKEN, AVOCADO, BACON AND WALNUT SALAD
Serves 4
1 red onion, sliced thinly
2 Tbsp white wine vinegar mixed with 2 tsp sugar
1 Tbsp olive oil
4 rashers bacon, grilled until crispy
1 whole smoked chicken breast, shredded
1 avocado
½ cup walnuts
2 cups home-made croutons
½ cup fresh herbs ie, basil, parsley
1. In a small bowl place the red onions and vinegar mix. Stir well and leave to sit for 20 minutes. This will extract the juices from the onion. Add the oil and this becomes your dressing.
2. In a large bowl put the bacon, chicken, avocado, walnuts and croutons. Toss with the onions.
3. Serve on a platter and garnish with fresh herbs.
Share this:
More Food & Drink / Lunch