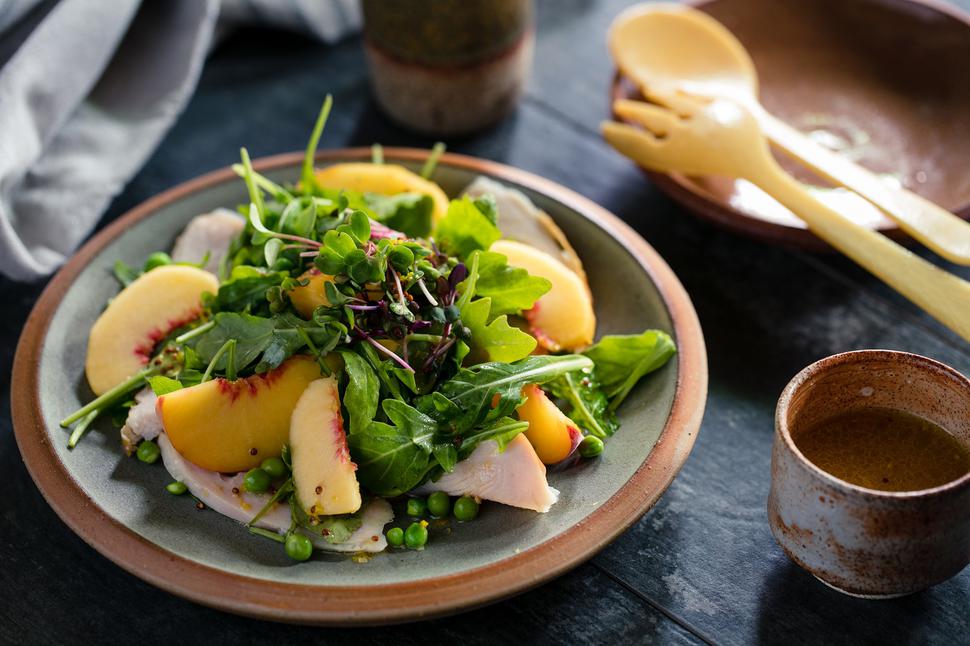 Smoked Chicken & Peach Rocket Salad
You'll have this simple salad sussed in a matter of minutes
Friday March 15, 2019
This smoked chicken and peach rocket salad recipe is very simple. Buy a smoked chicken breast and slice lengthways then arrange with fresh peaches, peas, rocket and a handful of micro greens and, voila! It's done. Add a garlicky dressing with a good quality grainy mustard drizzled over to finish. If you're keen, sprout your own micro greens and taste the difference.
SMOKED CHICKEN & PEACH ROCKET SALAD RECIPE
Serves 4
Ingredients
Dressing
¼ cup olive oil
2 Tbsp white vinegar
1 tsp grainy mustard
1 tsp brown sugar
1 garlic clove, crushed
Salad
1 cup fresh peas, cooked
4 cups rocket
2 peaches, cut into wedges
1 smoked chicken breast, sliced
1 cup micro greens
Salt and freshly ground pepper
Method
1. Firstly make the dressing. In a jar combine the oil, vinegar, mustard, sugar and garlic.
2. In a large bowl place the peas, rocket, peaches, chicken breast and half the micro greens. Just before serving toss through the dressing. Season with salt and pepper.
3. Serve topped with a garnish of micro greens.
Share this: