Delicious Smoked Fish & Charred Vegetable Salad
This fresh salad is packed with summery goodness and perfect for entertaining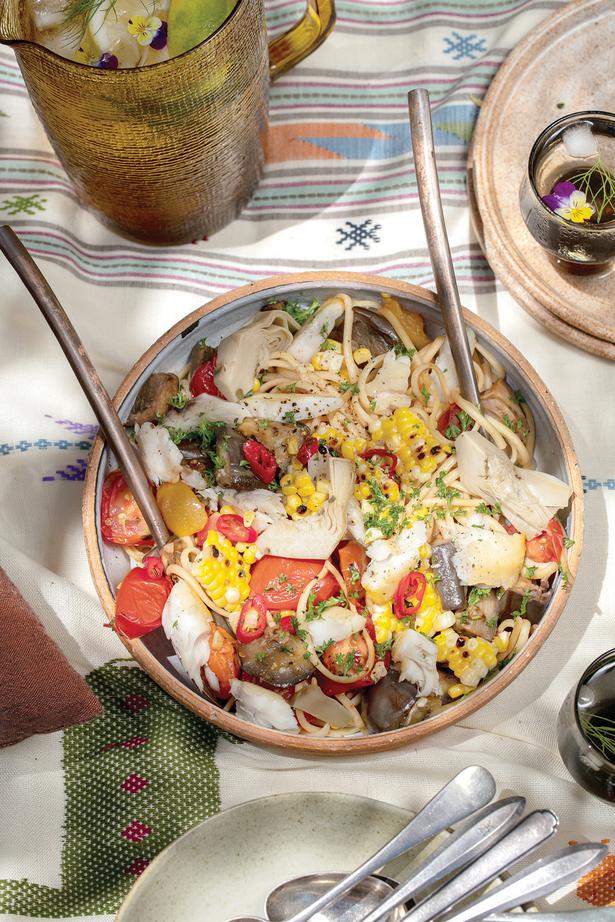 Thursday Jan. 20, 2022
This salad is packed with delicious charred summer goodness. Add other vegetables if your garden is groaning with seasonal produce, or basil if you have it. Don't be afraid to add a little extra oil to the eggplant. If you cover it once cooked it will continue to soften.
SMOKED FISH AND CHARRED VEGETABLE SALAD RECIPE
Serves 4
¼ cup olive oil
1 eggplant, sliced 1cm pieces
2 corn cob
2 Tbsp chilli oil
2 cups chopped fresh tomatoes
1 red chilli, sliced
3 garlic cloves, crushed
1 Tbsp lemon zest
2 Tbsp lemon juice
½ cup marinated artichokes
200g smoked fish, flaked
1 cup Italian parsley
Salt and freshly ground pepper
150g spaghetti, cooked
1. Preheat a barbecue to a medium heat.
2. Rub the eggplant with olive oil and cook for 4-5 minutes each side until soft. Place on a plate and cover. Place the corn on the barbecue, cooking and turning for 10 minutes until golden and brown. Remove. Slice the kernels from the cob when cool enough to handle.
3. Drizzle the chilli oil on to the barbecue hotplate. Add the tomatoes, garlic and chilli and cook gently for a few minutes just to soften slightly. Remove and place into a large bowl. Stir through the lemon zest, juice and artichokes.
4. Add the spaghetti, eggplant, corn, tomato mix, flaked fish, chopped parsley, salt and pepper to taste. Add a little extra drizzle of chilli oil if you like.
Share this: