Smoked Fish Salad Recipe and Orecchiette
You can't go wrong with Angela Casley's smoked fish salad recipe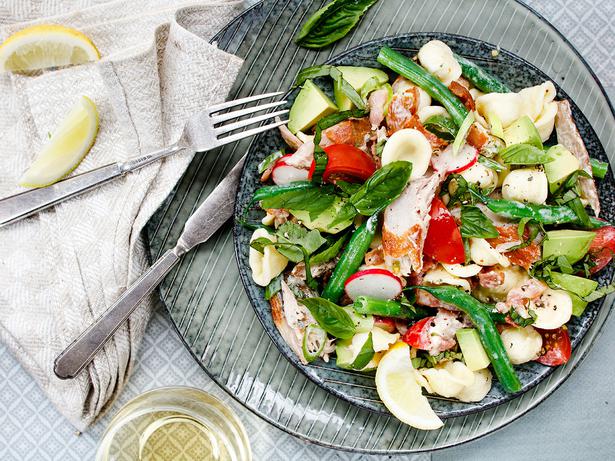 Thursday Feb. 18, 2016
When buying smoked fish ensure you buy the freshest and moistest — it can make or break this salad. All fish types can be smoked, so the options are endless. If you smoke your own fish, even better. For this salad, it is combined with fresh vegetables and tossed together with lemon aioli. If I have some homegrown tomatoes in the bowl I tend to add a couple of extra ones — I love their sweet flavour right now.

SMOKED FISH SALAD RECIPE WITH ORECCHIETTE SALAD
Serves 4-6
Dressing
½ cup aioli
zest and juice of ½ lemon
1 finely chopped spring onion
Salad
200g orecchiette pasta (cooked to packet instructions)
2 radishes, sliced thinly
200g smoked fish, flaked
100g green beans, blanched and halved
2 tomatoes, roughly chopped
1 avocado, peeled and chunked
2 handfuls baby spinach
2 spring onions, chopped
Handful of basil leaves
Salt and pepper to taste
Lemon wedges and extra basil leaves to serve
1. For the dressing, combine the aioli, lemon and spring onion in a small bowl. Set aside.
2. For the salad, combine the pasta, radishes, fish, beans, tomatoes, avocado, spinach, spring onions, and basil in a large bowl. Season with salt and pepper. Add the dressing and carefully mix well.
3. Serve on a large platter and garnish with lemon wedges and basil leaves.
Share this:
More Food & Drink / Recipes