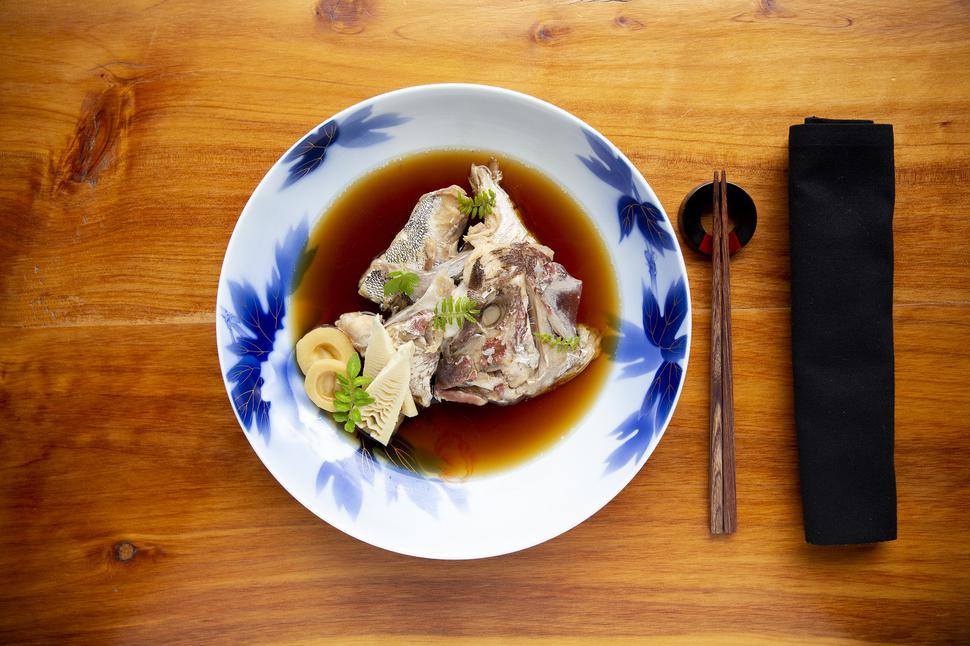 Snapper Arani (Fish Head In Broth With Japanese Root Vegetables)
Cocoro owner and chef Makoto Takuyama shares a traditional Japanese favourite
Wednesday March 11, 2020
Arani is a dish of fish head and wings simmered with Japanese seasonings. This is Cocoro owner and chef Makoto Takuyama's favourite version of his grandmother's traditional arani recipe. Sansho is available from Japan Mart and burdock can be found at Han Yang supermarket in Glenfield.
SNAPPER ARANI RECIPE
Serves 1
1 snapper head and wing
200ml water
4 Tbsp brown sugar
2 Tbsp mirin
3 Tbsp sake
4 Tbsp soy sauce
1 knob ginger, sliced
Bamboo shoot and or burdock roots, peeled and sliced
Pinch of Japanese sansho pepper
1 Tbsp chopped spring onions or chives

1. To a pot of boiling water, add head and wing of snapper. Blanch for 10 seconds.
2. Transfer fish to a bowl of cold water to cool and thoroughly remove any scales and blood. Set aside.
3. To a pot add 200ml water, brown sugar, mirin, sake and soy. Bring to a simmer. Add the snapper head and wing, sliced ginger, bamboo and burdock and simmer gently for 30 minutes on low heat. Cover. Do not move the pot while boiling.
4. Remove fish and carefully add to a serving bowl. Gently pour liquid over fish. Garnish with sansho pepper and chives or spring onions.
Share this:
More Food & Drink / Recipes