Snapper Recipe with Asparagus and Whipped Feta
Try this recipe from new cooking show The Best of New Zealand with Nick Honeyman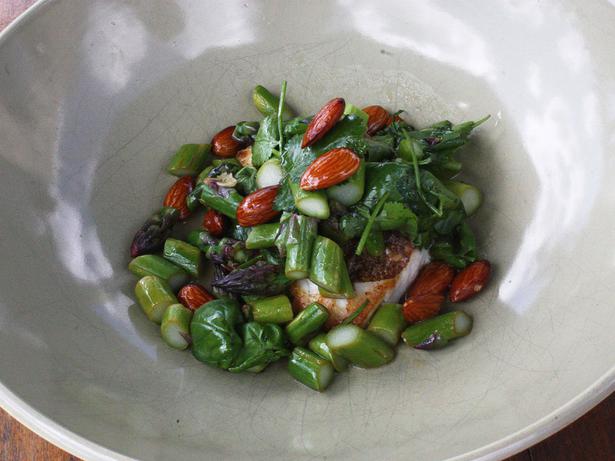 Monday July 25, 2016
SNAPPER RECIPE WITH WHIPPED FETA AND ASPARAGUS
125g block feta cheese
½ clove garlic
25g olive oil
65g milk
1 bunch asparagus (trimmed and peeled)
Whole almonds
Lemon juice
Sea salt
Fresh basil
Coriander leaves
Snapper (boned fillet)
1. Blend together feta cheese garlic, olive oil and milk.
2. Remove the excess asparagus leaves, blanch in salted boiling water for 1 minute then drain. Roughly chop and add to bowl.
3. Lightly toss whole almonds in a dash of olive oil cook and for one minute. Add chopped garlic and allow to brown, then add to bowl with asparagus, season with a squeeze of lemon juice, olive oil, sea salt and fresh basil and coriander leaves.
4. Lightly score the skin of a piece of snapper, season the underside of the fish, add a little olive oil to a pan, season the medium hot pan and then place the snapper in skin side down - making sure to cook the fish from room temperature.  Cook for 3 minutes skin side down and then add a squeeze of lemon juice to the pan and turn the snapper over for 30 seconds. Remove from heat and allow to sit in the pan for 30 seconds.
5. To plate, place a spoonful of the whipped feta on a plate, place the snapper on top adding the juices from the pan, and lastly add a handful of the asparagus salad on top.
— Best of New Zealand with Nick Honeyman airs at 4pm Saturdays on TV ONE.
Share this:
More Food & Drink / Recipes