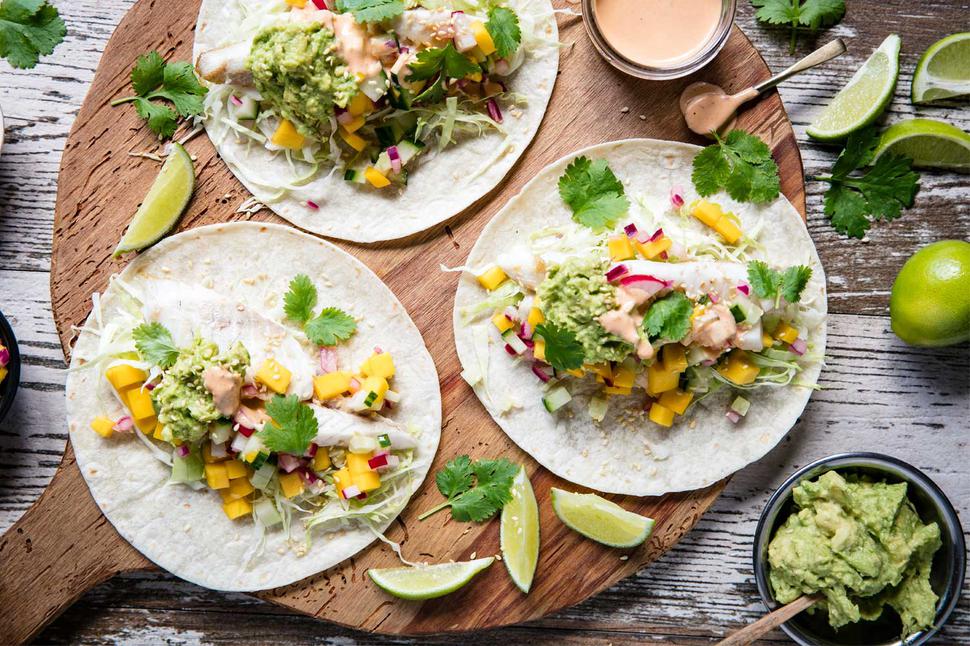 Soft Fish Tacos With Mango Salsa & Spicy Sauce
Warning: These tacos are seriously delicious
Friday May 18, 2018
Thanks to my friend, Stu, who's a keen fisherman, this fish taco recipe is regularly on our menu. The chipotle sauce is also great served over grilled chicken or even a roast vegetable salad. Quick to prepare with just the panfrying of the fish left until last. Don't forget a sprinkle of coriander leaves and a squeeze of lime to finish your tacos. Two each may not be enough.

FISH TACOS
Serves 4
Salsa
1 mango, chopped small
½ red onion, chopped small
½ cup chopped coriander
Spicy Sauce
½ cup chipotle sauce (I use La Morena)
¼ cup mayonnaise
¼ cup sour cream

Fish Tacos 
1 Tbsp butter
500g fish fillets, cut into eight pieces
8 small tortillas
2 cups shredded green cabbage
1 avocado, mashed with 1 Tbsp lime juice
1 Tbsp toasted sesame seeds
To garnish, extra coriander leaves
2 limes, cut into wedges
1. Firstly make the salsa. In a small bowl combine the mango, onion and coriander.
2. In another small bowl combine the chipotle sauce, mayonnaise and sour cream. Set aside.
3. Heat the butter in a frying pan. Cook the fish fillets in batches and keep warm.
4. Warm the tortillas in the microwave for 1 minute.
5. Serve with shredded cabbage, avocado, fish, salsa and sauce. Sprinkle with toasted sesame seeds, coriander leaves and lime wedges.
Share this: