Soft Tacos Recipe with Pulled Beef Cheek
Try this soft taco with tasty Asian flavours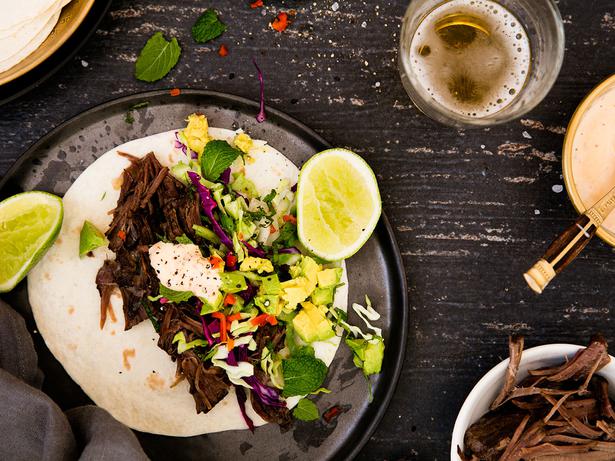 Friday June 3, 2016
A succulent, slow-cooked beef cheek is a favourite. Here, I have shredded it and added fresh tasty Asian flavours, before rolling in a soft tortilla. It's such an easy dinner — everyone can make their own. Try using shredded beef cheek in sliders, burritos, or make it into chilli con carne or even cottage pie.
SOFT TACOS WITH PULLED BEEF CHEEK
Makes 12
• 1 Tbsp oil
• 2 cloves garlic, crushed
• 1 tsp cumin and coriander
• Salt and freshly ground pepper
• 1 onion, sliced
• 2 beef cheeks
• 1 cup water
• 1 cup red wine
• 12 small soft tacos
• 1 avocado, chopped roughly
• 2 cups Asian slaw
• 1 Tbsp chopped red chilli
• 2 limes, in wedges or cheeks
• Greek yoghurt to serve and mint leaves
1. Preheat an oven to 150C.
2. Mix the oil, garlic, cumin, coriander, salt and pepper in a small bowl. Rub this over the beef cheeks.
3. Heat a frying pan to a high heat and brown the cheeks on both sides. Place in a casserole dish. Pour over the water and wine. Cover and place in the oven for four hours. The meat will be tender and ready to pull.
4. To serve, warm the tortilla wraps. Top with pulled beef, avocado, slaw, chopped chilli, a squeeze of lime and a dollop of yoghurt.
Share this:
More Food & Drink / Recipes