Sorghum Salad Recipe with Portobello Mushrooms and Lemony Paprika Vinaigrette
Eleanor Ozich uses the versatile sorghum as a base in this bright and zingy salad that's big on flavour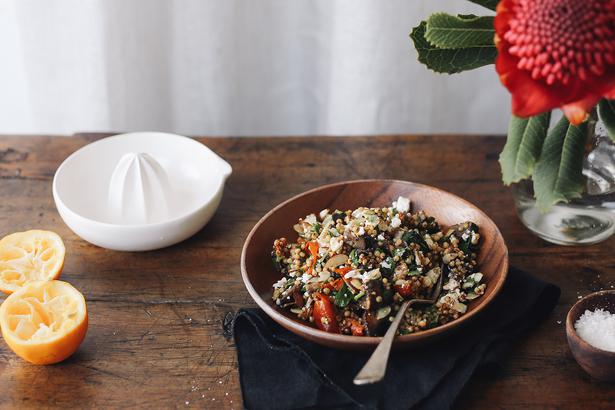 Thursday Sept. 14, 2017
Have you tried sorghum? This delicious grain has a pleasing, chewy texture, with just the right amount of bite. It makes a fantastic base for a salad, and on this occasion, I've tossed it with sheep's feta, grilled mushrooms and lemony paprika vinaigrette. The result is a comforting and zingy salad, that delivers on flavour in a big, bright way. It's delicious served warm, though it also holds up nicely in the fridge too. I recommend making enough for leftovers.
SORGHUM SALAD WITH PORTOBELLO MUSHROOMS AND LEMONY PAPRIKA VINAIGRETTE
Serves 4 as a side, or 2 as a main dish
Ingredients
½ cup sorghum
2 cups good quality vegetable or chicken stock
3 Tbsp coconut oil or olive oil
250g portobello mushrooms, sliced
For the vinaigrette
¼ cup fresh lemon juice
1/3 cup extra virgin olive oil
1 tsp Dijon mustard
1 tsp paprika flakes, or ground paprika
¼ tsp ground pepper
1 tsp sea salt
To serve
100g sheep's feta, crumbled
½ cup silvered almonds, lightly toasted.
1. Combine the sorghum and stock in a saucepan, bring to a soft boil, then cover and simmer for about 50 minutes, or until the grains are tender and have started to burst.
2. Remove from the heat and strain off any water remaining in the saucepan.
3. Heat the coconut oil or olive oil in a large pan over medium heat, add the mushrooms, and cook whilst stirring every so often, until golden on the edges, about 2-3 minutes.
4. Add all vinaigrette ingredients to a small jar, and shake until combined, check seasoning, and adjust if necessary.
5. Toss together the sorghum, mushrooms, vinaigrette, sheep's feta and almonds, then pile on to a large serving platter.
Share this:
More Food & Drink / Recipes