New Opening: Soul Train, City
Uptown funk will hit downtown Auckland when Soul Train opens this week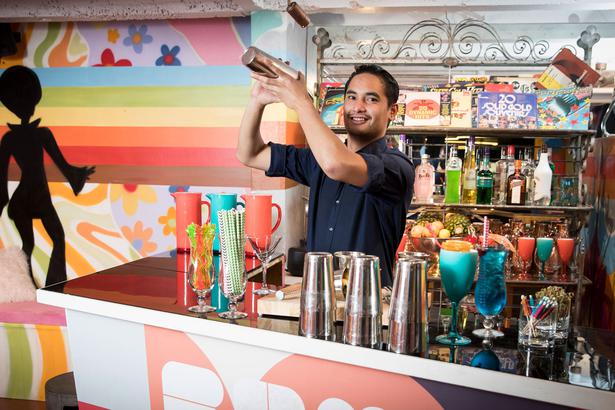 Monday July 3, 2017
Word on the street is that uptown funk will hit downtown Auckland when Soul Train opens this week.
The Jefferson, the whisky bar known for its bright pop-ups, is taking it back to when the music was hot, the flares were big and the hair was even bigger.
Soul Train is the latest inspiration and name for the bar's front room, opening Wednesday July 5, although much like the iconic music and dance TV show, it will probably be heard before being seen.
Onsite DJs will be spinning vinyl from the likes of James Brown, Aretha Franklin and the Jackson 5 — which could result in an impulsive shimmy down the dimly lit entranceway.
Guests won't be in the dark for long, however, once they enter the hand-painted space, swirling in psychedelic colours and patterns. The centrepiece mural pays homage to Motown superstar Diana Ross; after all, long before there was Queen "B" Beyonce, there was the one and only Queen "D".
The drinks list also looks to the past for inspiration. Sip on sweet classic cocktails such as pina coladas and harvey wallbangers, with coloured straws, swizzle sticks and decorative umbrellas.
There's also a special prosecco number and a gluten-free beer — not strictly on theme but seriously great for coeliacs.
Bartenders will be decked out in proper 70s gear encouraging a rifle back through your own wardrobe for some long-buried items.
For a night of fun, funk and a bit of a boogie, Soul Train aims to warm your soul this winter.
• Soul Train is at 7 Fort Lane, Auckland Central from July 5. Open Monday to Saturday, 4pm-1am. Visit Thejefferson.co.nz
Share this:
More Food & Drink / Wine & Drink