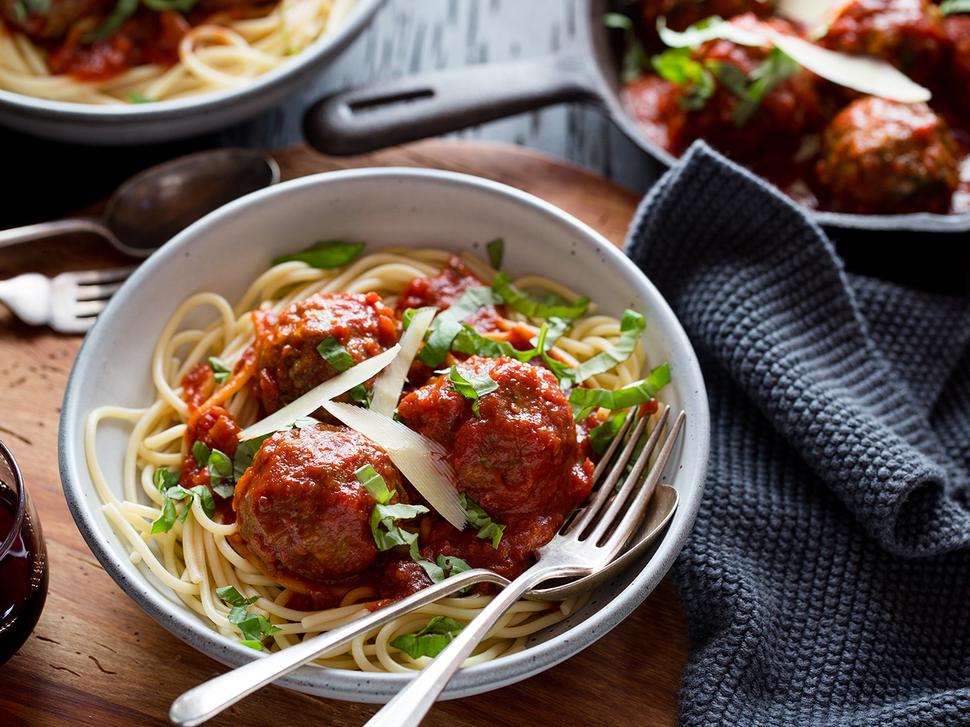 Spaghetti and Parmesan Meatballs Recipe
A classic Italian favourite that's taken up a notch with the combination of pork and beef mince in these extra delicious meatballs
Friday Oct. 27, 2017
Spaghetti and meatballs is always a winner. Here, I have combined beef and pork mince with just a few other ingredients to make them delicious. The tomato sauce with fresh basil and balsamic vinegar helps balance the flavours. A good idea, is to double the recipe and put half in the freezer for another week.
SPAGHETTI AND PARMESAN MEATBALLS
Serves 6
Meatballs
450g beef mince
45g pork mince
1 small onion, chopped finely
2 cloves garlic, crushed
2 eggs
½ cup chopped parsley
½ cup grated parmesan
½ tsp salt and pepper
Tomato Sauce
1 Tbsp olive oil
1 onion, chopped
3 cloves garlic, crushed
2 cups chopped tomatoes
¼ cup red wine
1 tsp balsamic vinegar
½ tsp brown sugar
½ cup basil leaves
400g spaghetti
1 extra cup shredded basil leaves
Extra grated parmesan to garnish
1. For the meatballs, place the mince, onion, garlic, eggs, parsley, parmesan salt and pepper into a bowl. Mix together well and roll into golf-sized balls. Set aside.
2. For the tomato sauce, warm the oil in a pot. Add the onion and garlic, cooking for 5 minutes to soften. Add the tomatoes wine, balsamic, sugar and basil leaves. Bring to a simmer for 10 minutes until slightly thickened.
3. Fry the meatballs in batches until browned and cooked through. Add to the tomato sauce.
4. Serve over hot spaghetti with extra basil leaves and parmesan.
Share this:
More Food & Drink / Recipes