Black Spaghetti Recipe with Fennel and Prosciutto
This delicious warm salad is a quick-to-prepare light meal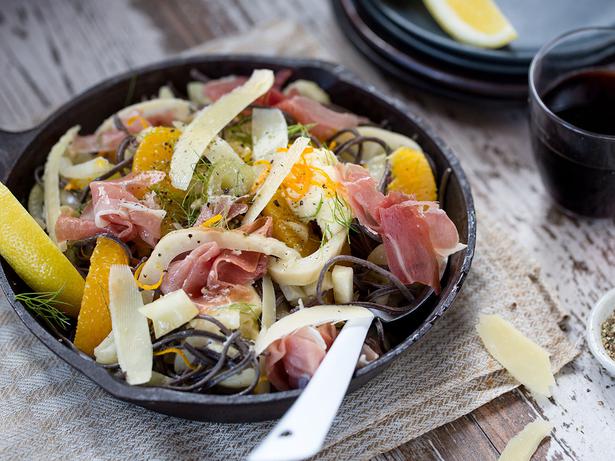 Friday April 7, 2017
Fennel paired with colourful orange, garlic and prosciutto makes a fresh and delicious combination with black spaghetti. More of a warm salad than a hot pasta dish, this is a quick-to-prepare light meal. You'll find black spaghetti in the health aisle at the supermarket.
BLACK SPAGHETTI RECIPE WITH FENNEL AND PROSCIUTTO
Serves 4
150g black spaghetti
2 Tbsp olive oil
1 bulb fennel, cut lengthways, sliced thinly
3 cloves garlic, sliced
2 oranges, zest of 1
Juice of 1 lemon mixed with 2 Tbsp olive oil
Salt and freshly ground pepper
100g prosciutto, cut in half
100g cream fraiche, to dollop
¼ cup shaved parmesan to serve
1. Cook the spaghetti as per packet instructions.
2. In a frying pan, heat the oil. Add the fennel and garlic cooking for 5-8 minutes until completely soft. Set aside.
3. Zest the orange then cut the remainder into segments. Toss this through the fennel. Add the lemon, olive oil and season.
4. Gently mix the pasta and fennel together and place on to a platter. Place pieces of prosciutto on top and dollops of the creme fraiche. Garnish with a few fennel fronds and parmesan.
Be inspired by the good things in life. Sign up now to receive emails from Viva, and twice a week you will be sent the latest news, profiles, videos, fashion shoots, competitions and more.
Share this:
More Food & Drink / Recipes