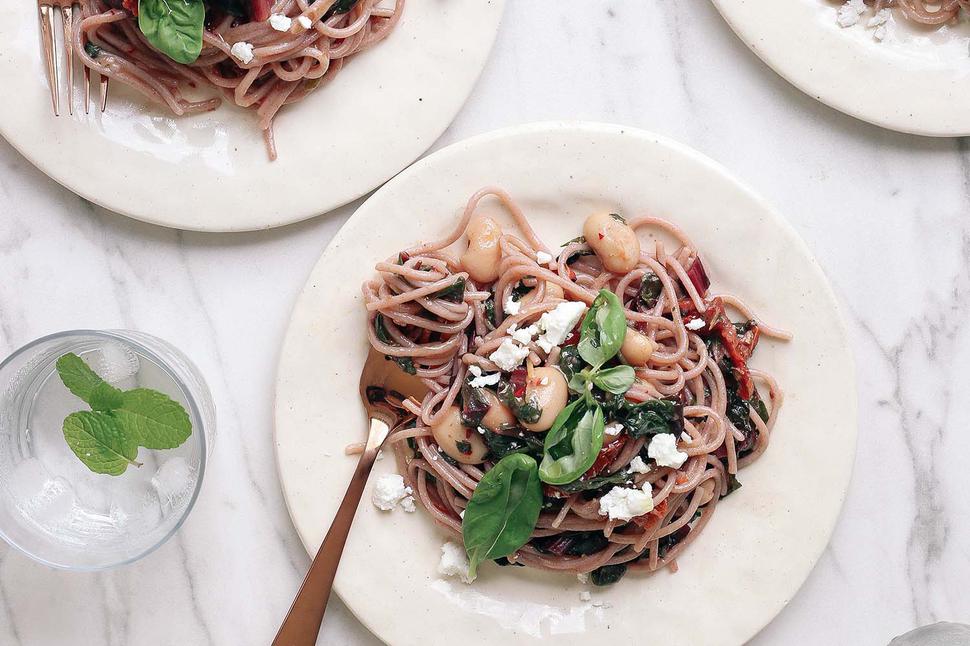 Spaghetti With Kale, Butter Beans & Lemon Ricotta
A delicious and comforting one-pot pasta dish that delivers a great midweek meal in no time
Thursday April 12, 2018
This one-pot pasta is dead simple to make, and a brilliant method to have in your back pocket for those busy mid-week nights when you've no idea what to cook.
The spaghetti and butter beans are cooked in one big pot along with roughly-sliced kale, sundried tomatoes, a generous pinch of chilli flakes and the zest of a lemon. Everything is then tossed together with a decent glug of extra virgin olive oil to create a meltingly delicious and comforting sauce. Best served with torn-up fresh herbs and a few chunks of creamy ricotta.
SPAGHETTI WITH KALE, BUTTER BEANS & LEMON RICOTTA
Serves 4
For the Pasta
A bunch of kale or other leafy greens, roughly sliced
250g dried spaghetti* see note below
½ cup finely sliced sundried tomatoes, olives or capers
1½ cups of cooked butter beans, lentils or chickpeas
A large pinch of chilli flakes
2 cloves of garlic, finely sliced
Zest of one lemon
A glug of extra virgin olive oil
* Note: I used gluten-free sorghum and quinoa spaghetti, although most types of dried pasta are fine, simply adjust the water accordingly. If the pasta looks dry while cooking, add a little more boiling water to the pot.
To Serve
A large handful of chopped fresh herbs such as basil or Italian parsley
Juice of one lemon
2 Tbsp butter, optional
80g ricotta
1. Combine all ingredients in a large pot and add enough boiling water to cover, about 4 cups. Bring to the boil, and simmer over medium heat, stirring occasionally, until the pasta is al dente. The liquid should have reduced, creating a light, starchy sauce.
2. Add the herbs, lemon juice and extra virgin olive oil. Season generously with flaky sea salt and freshly ground pepper, then toss until the pasta is evenly coated in the sauce.
3. Serve with a scattering of fresh herbs and ricotta.
Share this:
More Food & Drink / Recipes