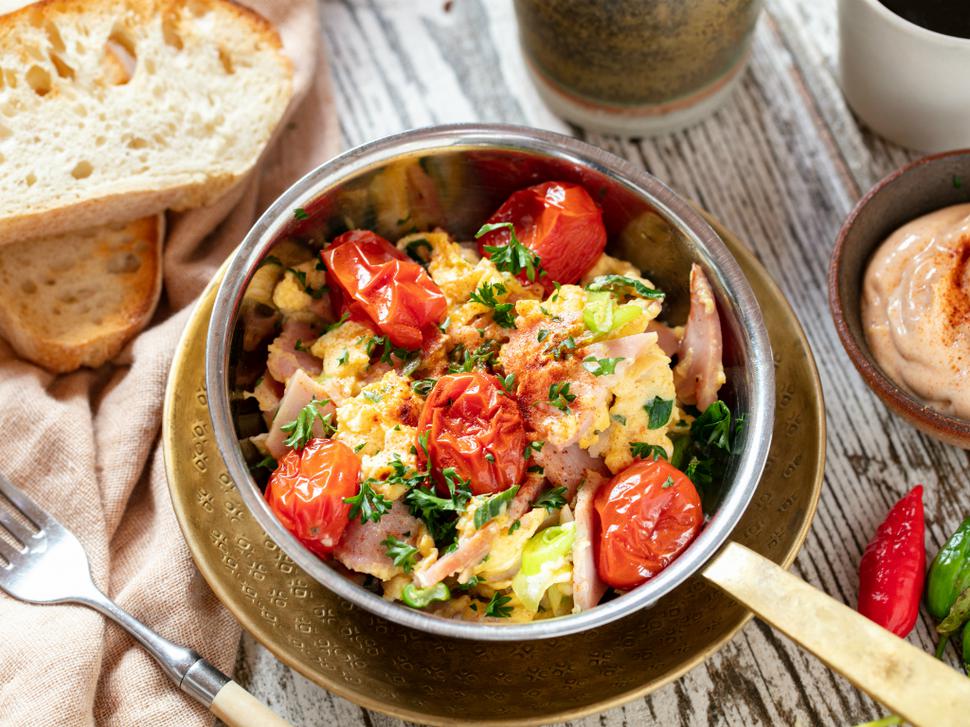 Spanish Scrambled Eggs
When combined with wasabi and smoked paprika mayo, these scrambled eggs really shine
Friday May 4, 2018
Having been given this mayonnaise with wasabi and smoked paprika recipe, I figured I'd try it alongside Spanish scrambled eggs. I couldn't have anticipated better results.
SPANISH SCRAMBLED EGGS
Serves 2
Sauce
½ cup good quality mayo
1 tsp smoked paprika
¼ tsp wasabi (or to taste)
Scramble
4 eggs
¼ cup milk
Salt and freshly ground pepper
1 Tbsp butter
½ spring onion, sliced thinly
½ cup chopped ham from the bone
1 Tbsp chopped chilli
¼ tsp smoked paprika
2 Tbsp chopped parsley
½ cup cherry tomatoes, lightly roasted
1. In a small bowl combine the mayonnaise, paprika and wasabi.
2. In another bowl, whisk the eggs with the milk. Season with salt and pepper.
3. Heat the butter in a frying pan. Add the spring onion, ham and chilli and cook for 2 minutes. Add the paprika then the eggs, cooking while stirring gently, until just set. Fold through the parsley and cherry tomatoes.
4. Serve with hot toast, the mayonnaise and a sprinkle of paprika.
Share this: