SPONSORED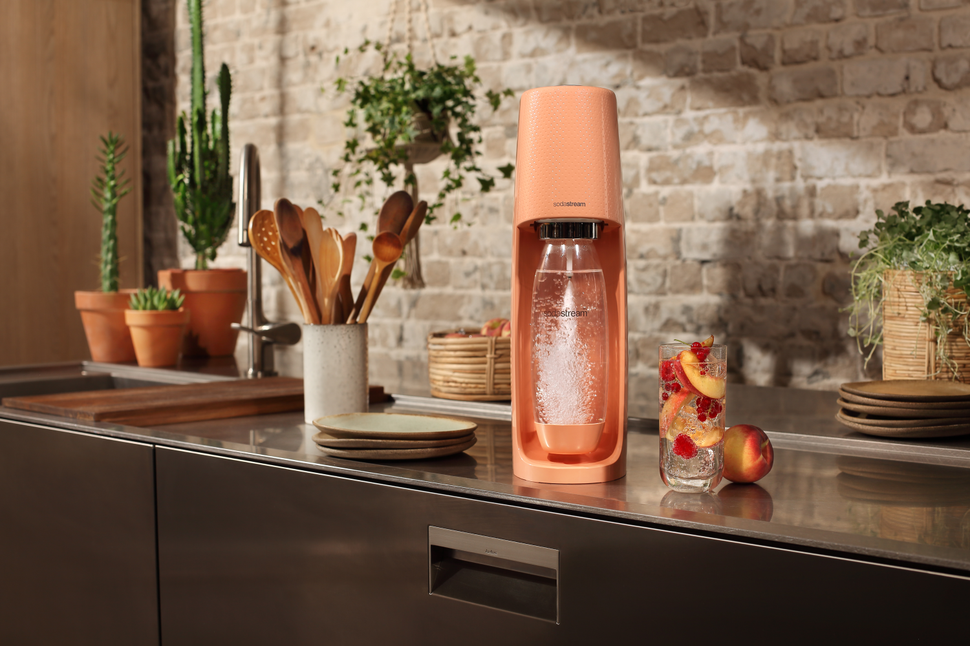 Sparkling Water Is Popping Off
An eco-friendly option for fans of fizz, SodaStream has become a kitchen classic for a reason
Thursday Jan. 28, 2021
The modern kitchen is a place that is fine-tuned for all facets of contemporary home life — entertaining, culinary adventures, and convenient shortcuts — and a SodaStream can be found in pride of place on the bench in many homes.
Fizzy water is a modern must-have for myriad reasons (explored below) and thanks to SodaStream's Sparkling Water Makers (which carbonate plain water using carbon dioxide) enjoying soda water has never been more convenient, nor more popular.
SPARKLING WATER IS HAVING A MOMENT
The drink du jour, soda water is an effervescent alternative to standard tap water, and a healthier choice than many commercial drinks.
Though it has a long history as a mixer (and was first invented in 1767) in recent years soda water has become a mainstay in houses and hospitality spots alike. People can't get enough of it. Some offices and boutiques even have it on tap.
Why is it so popular now? Fizzy water has always felt a little bit fancy — maybe it's the bubbles, or its association with cocktail hour and well-heeled establishments — and it adds a special touch to everyday life that can elevate even a simple moment of refreshment.
Sparkling water aligns with the growing consumer focus on wellness, and the reusable nature of SodaStream's approach makes it a more sustainable option as we seek to minimise our environmental impact.
A BETTER KIND OF BUBBLE
Soda water is generally a pretty health-conscious choice — low in sugar, the fizzy delight of a bottle of bubbles can encourage people to drink more water than they would with just still tap water in their bottle.
We are more aware of the need to stay hydrated throughout the day, and consumers are moving away from highly processed beverages that contain excessive sugar.
For those seeking a flavour hit, SodaStream has its own brand of organic mixes – SodaPress. These organic mixes contain half the sugar content of regular soft drinks, and give you added control of how much (or how little) you use. SodaPress have their own organic kombucha concentrates too, which are low in sugar and contain live probiotics to support gut health.
SodaStream also supports a DIY attitude, and lends itself easily to infusing your soda with tea after you've carbonated your water, or adding mint and cucumber for low-calorie refreshment.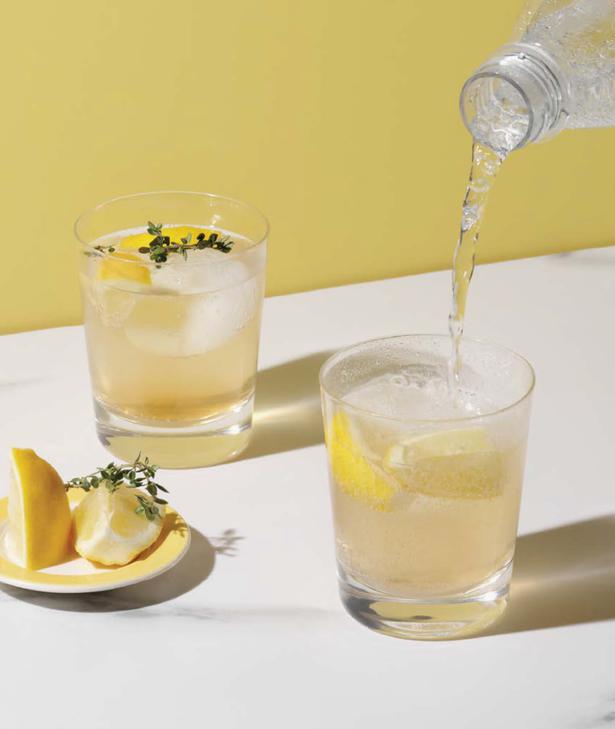 THERE IS A THIRST FOR SUSTAINABLE ALTERNATIVES
Consumer appetite for sugar-laden drinks isn't the only thing that has changed rapidly. There is also a growing awareness of the environmental impact our food and drink habits have.
The home is becoming a more conscious environment, and as people seek to minimise their environmental footprint, the kitchen is often the first place the start — like investing in a SodaStream
As bottled water rose in popularity in recent decades (becoming something of a status symbol) so too did its associated waste. Now, with shoppers waking up to the impact of single use plastics, the reusable nature of SodaStream bottles provides a welcome alternative.
Rather than buy bottle after bottle of fizzy water from the supermarket, instead you can refill and re-carbonate your SodaStream bottles yourself. Likewise, the gas canisters that create the carbonated water are in SodaStream's Sparkling Water Maker are also refillable, and can be swapped at any approved retailers for a full one.
Now that it's becoming the norm to carry a reusable drink bottle with you throughout the day, SodaStream's at-home-approach creates more flexibility around what we're drinking day to day; rather than being restricted by what's on the shelf (or in the tap) we can create our own hydration options. SodaStream have a range of bottles designed for use beyond the home, like the 500ml sipper bottle, or the classic one litre.
IT'S PARTY PERFECT
Soda water is essential to a well-stocked bar, so entertaining becomes a breeze with a SodaStream at home; a run to the shop to buy more mixer is no longer needed, and cocktails have the potential to become both more inventive and far more low maintenance — try a 'Free 'N' Tini to get you started.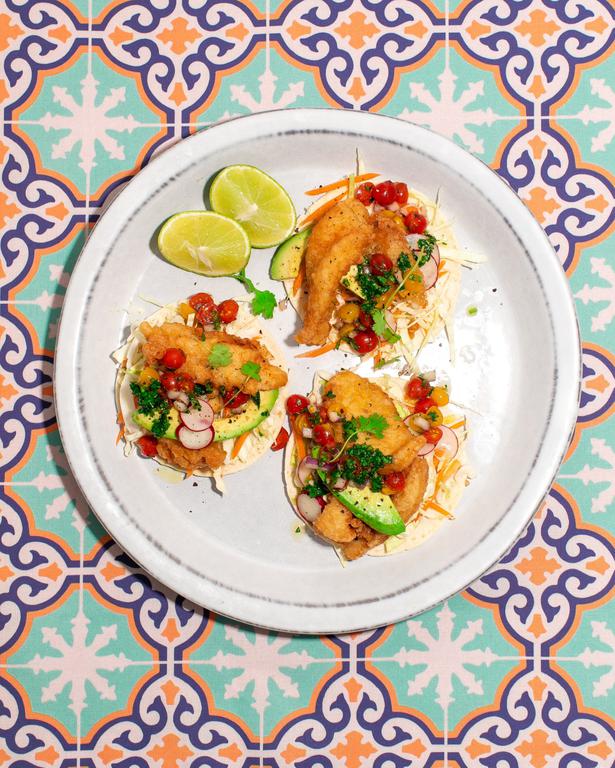 Crispy Fish Tacos by Anisa Sabet. Photo / Supplied

Free 'N' Tini

30mL Soda Press Co Classic Indian Tonic Syrup
SodaStream Sparkling Water
Lemon Wedge
Lemon Thyme Sprig

Add ice to a glass and pour sparkling water and syrup over ice. Garnish with a sprig of lemon thyme.

Having a fizzy beverage option on hand is also advantageous for those who don't drink alcohol or prefer to pace themselves, and a SodaStream Sparkling Water Maker is an excellent facilitator of moderation and hydration.

SODA WATER CAN REFRESH A RECIPE

Not purely reserved for beverages, soda water can also transform a recipe. For fried fish, using soda water in your batter gives the fish a crisper crust — the carbonation in the soda water creates a light, aerated batter that crisps up exceptionally well with frying. Try these crispy fish tacos by Anisa Sabet and see for yourself.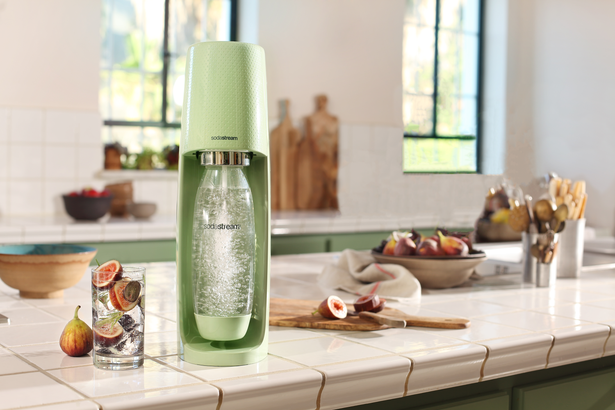 Crispy Fish Tacos
INGREDIENTS
Chimichurri
1/2 cup olive oil
3 tablespoons red wine vinegar
1 cup fresh continental parsley
1/2 fresh coriander
1 small red chilli(can be de-seeded)
1 small green jalapeño (can be de-seeded)
3/4 teaspoon dried oregano
1 good pinch flaked sea salt
1 teaspoon caster (or more to taste)
Zest from 1 lemon
Pepper to taste
Smoked Tabasco Aioli
1/2 cup aioli
Many dashes smoked tabasco sauce
Squeeze lime juice (to taste)
1/2 teaspoon caster sugar
1/2 teaspoon flaked sea salt
Pepper to taste
To Coat Fish
700g firm white fish
60g (1/2) cup flour
1 teaspoon flaked sea salt
1/2 teaspoon white pepper
1/2 teaspoon garlic powder
Pinch cayenne pepper
For The Batter
500ml SodaStream sparkling water
150g plain flour
1 teaspoon flaked sea salt
1 teaspoon smoked paprika
1 teaspoon ancho chilli powder
1/2 teaspoon garlic powder
1/2 teaspoon onion powder
1/2 teaspoon ground cumin
1 teaspoon ground thyme
1 egg
To sprinkle after: flaked sea salt
For The Tacos
8 soft tortillas
1/8 cabbage, finely sliced + 1 carrot grated
Avocado, sliced
Tomato salsa (tomatoes, chilli, red onion & olive oil)
Fresh coriander leaves, lime wedges
INSTRUCTIONS
To prepare the SodaStream sparkling water: Fill a SodaStream 1Litre Bottle to the fill line with cold water and carbonate
To make the chimichurri: Whizz the ingredients in a food processor, set aside.
To make the smoked tabasco aioli: Whisk the ingredients in a bowl, cover and pop into the fridge until serving.
To coat the fish: Mix the coating ingredients in a bowl. Toss each strip of fish in the flour mixture to coat all over. Set aside.
To make the batter: Whisk together the batter ingredients in a bowl. If the batter is too dry, add some more sparkling water. Add the fish strips to the batter and toss to coat.
To cook the fish: Heat oil until hot (but not too hot or fish will burn), cook fish in batches flipping after a few minutes, until golden brown. Alternatively use a deep fryer (in which you can submerge chicken until golden). Set aside on a plate lined with baking paper. Repeat until finished. Sprinkle over a generous amount of flaky sea salt before serving.
To make the tacos: Serve the tortillas warm, then have at it with all the toppings. I like to layer my tacos with cabbage & carrot, then crispy fish, avocado, tomato salsa, a good drizzle of the smoked tabasco aioli, dot over the chimichurri and tear over some fresh coriander. A squeeze of lime finishes it off perfectly. Yum!
Viva is giving away a limited edition colourway of the SodaStream Spirit soda maker to one lucky reader — enter to win here.
There is a range of colours and machines available nationwide in leading retailers.
Share this: