Spelt Scones Recipe with Apple
Try making this tasty twist on scones by Eleanor Ozich of Petite Kitchen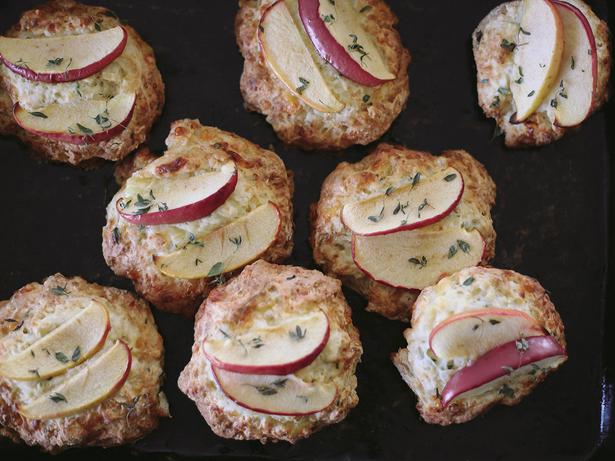 Thursday May 26, 2016
A few slow hours spent in the kitchen this morning brings an open mind and willingness to try something new. The whistling winds and lavender grey skies have inspired me to make something warm and comforting – the result is a tray of softly textured scones with apple, sharp cheddar and nutty spelt flour. A little fresh thyme from the garden brings a soft earthiness, amidst the sweet fruit and delicate texture. I bring them to the table with creamy unsalted butter and a milky mug of tea.

SPELT SCONES RECIPE WITH APPLE, THYME AND CHEDDAR
Makes 6
For the scones:
• 1½ cups spelt flour
• 1 cup natural yoghurt
• 1 cup grated cheddar cheese
• A small handful of finely chopped thyme
• 3/4 tsp baking soda
• ½ tsp fine sea salt
For topping:
• 2-3 Tbsp milk
• 1 apple, finely sliced in to wedges
• Juice of half a lemon
• 1 tsp runny honey
• A handful of fresh thyme
1. Pre-heat the oven to 200 C, and grease a baking tray.
2. Combine all scone ingredients in a mixing bowl. Turn out on to a floured bench, and knead gently 4-6 times until the dough comes together nicely.
3. Shape in to 6 even sized scones, and place 2-3 cm apart on the baking tray.
4. Brush each scone with a little milk.
5. Toss the slices of apple in the lemon juice and honey, and then place 2-3 slices on each scone. Gently tear the thyme in to pieces and scatter on top.
6. Bake in the oven for 10-12 minutes or until golden.

• For more from Eleanor Ozich see petite-kitchen.com  
Share this: