Spiced Slow Roasted Lamb Recipe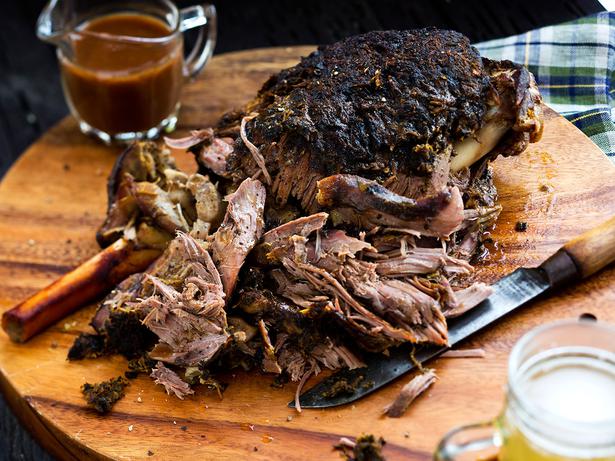 Wednesday Sept. 3, 2014
SPICED SLOW ROASTED LAMB
Serves 8
Ingredients
• 2 cloves garlic, crushed
• 3cm piece ginger, grated
• ½ tsp cinnamon
• 1 tsp turmeric
• 1 tsp cumin
• pinch chilli flakes
• ¼ cup honey
• zest and juice of 1 lemon
• ½ cup chopped mixed parsley and coriander
• ½ tsp salt and freshly ground pepper
• 1 leg of lamb
•1 onion, roughly chopped
•1 cup stock or water
Sauce
• ½ cup wine
• 2 Tbsp flour
•Salt and pepper
1. Heat oven to 130C.
2. Into a small bowl combine the garlic, ginger, cinnamon, turmeric, cumin, chilli, honey, lemon, herbs, salt and pepper.
3. Remove any excess fat from the lamb. Place it in a roasting dish and smother the paste all over the meat. Dot the onion around the tin, pour the stock over and cover tightly with tinfoil.
Place in the oven for 7 hours.
4. After 5 hours drain off some of the juices and refrigerate until cool enough to remove the fat from the top. Use this liquid for your sauce. For the last 30 minutes remove the tinfoil to brown the top.
5. Remove the lamb from the oven and place on a serving plate. Cover and let rest while you make the gravy. Tip any remaining juices into a bowl and save.
6. Place the roasting dish on an element. Add the wine and deglaze the pan. Sprinkle with flour and cook for 2 minutes. Add some of the reserved juices and whisk until you have a flavoursome sauce, adding a little extra water if needed. Season with salt and pepper.
7. To serve simply pull the lamb apart with two forks and serve with the sauce.
Share this: