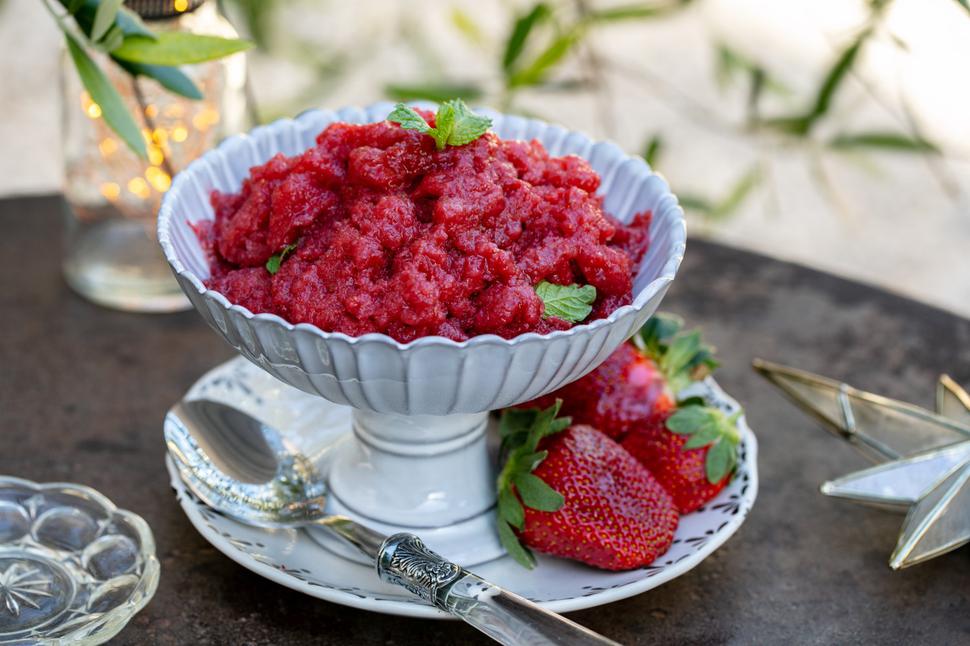 Spicy Strawberry & Cucumber Margarita Granita Recipe
Add some bite to this frozen boozy dessert with a few spoonfuls of jalapeno
Monday Nov. 30, 2020
A fresh and fun option; feel free to be a little heavy-handed with the tequila in this granita, after all, Christmas only comes around once a year. You will want to keep this recipe on hand throughout summer, as it's the perfect way to cool down on a balmy evening.
SPICY STRAWBERRY AND CUCUMBER MARGARITA GRANITA
Serves 8
3 cups hulled strawberries
½ telegraph cucumber, peeled and diced
2 Tbsp chopped jalapenos
¼ cup sugar
½ cup lime juice
1/3 cup tequila
¼ cup Cointreau
Mint leaves to garnish
1. Place the strawberries, cucumber, jalapenos, sugar, lime juice, tequila and Cointreau into a blender, mixing until smooth.
2. Pour into a container, cover and place into the freezer and leave for 4 hours.
3. Using a fork, scrape the mixture into a granita. Keep frozen until ready to serve.
4. Garnish with mint leaves.
Get the look: Iris footed sweet bowl and Capiz star decoration from French Country Collections.
Share this:
More Food & Drink / Recipes