Spicy Broad Bean Dip Recipe
Angela Casley whips up a tasty condiment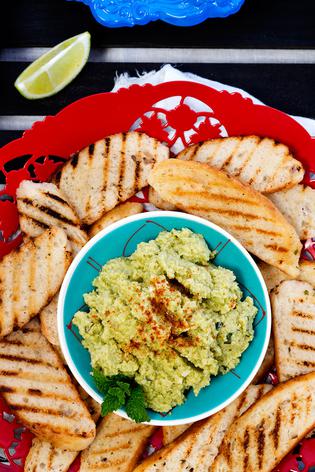 SPICY BROAD BEAN DIP
Makes 2 cups
500g bag frozen broad beans
2 cloves garlic
zest and juice of 1 lemon
1 small green chilli, chopped
¼ cup coriander, chopped
½ tsp cumin
20ml olive oil
Paprika, for garnish
1. Bring a pot of salted water to the boil and plunge the broad beans in for 3 or 4 minutes. Remove, strain and plunge in ice-cold water to cool.
2. Remove the husks from the broad beans. Place the beans into a food processor.
3. Add the garlic, lemon, chilli, cumin, olive oil, pepper and salt to taste.
4. Process until smooth, or to your liking. Place into a serving bowl.
5. Serve with crostini or as part of a platter.
Share this:
More Food & Drink / Recipes