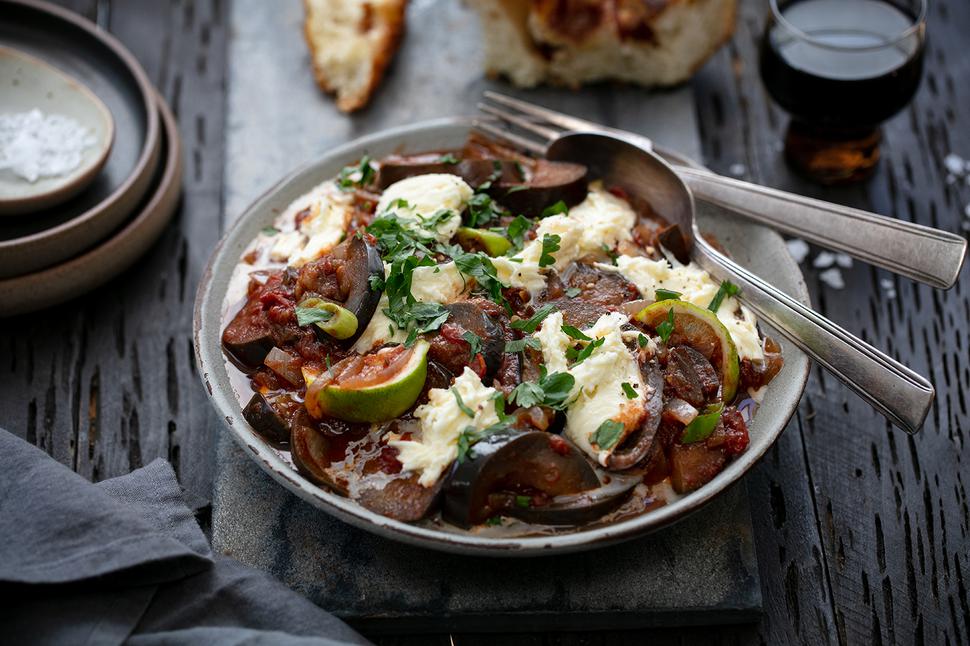 A Divine Spicy Eggplant & Mozzarella Salad
Serve this salad alongside slow-cooked lamb, barbecued chicken or on its own with crusty bread
Tuesday April 12, 2022
Use lemon instead of lime if need be. This is one of those dishes that is even better a couple of days later.
SPICY EGGPLANT AND MOZZARELLA SALAD RECIPE
Serves 4
2 eggplants, chopped
¼ cup olive oil plus 1 Tbsp
2 onions, sliced
4 cloves garlic, crushed
1 tsp each smoked paprika, ground cumin, coriander, garam masala
420g tin chopped tomatoes plus ½ cup water
1 lime, quartered
2 tsp sugar
1 Tbsp balsamic vinegar
1 ball mozzarella
½ cup chopped coriander
1. Preheat oven to 200C.
2. Place the chopped eggplants into a large baking dish. Drizzle with the ¼ cup oil and bake for 25 minutes, turning once until softened. Remove.
3. Heat the tablespoon of oil in a large pot. Add the onion and garlic, cooking for a few minutes to soften. Stir through the paprika, cumin, coriander and garam masala for 2 minutes. Pour in the tomatoes, squeeze and add the lime quarters, then add the sugar and vinegar, bringing to a simmer.
4. Stir through the eggplants and coriander, simmering for 10 minutes. Season with salt and pepper.
5. Serve warm with torn mozzarella and chopped coriander on the top.
Share this: