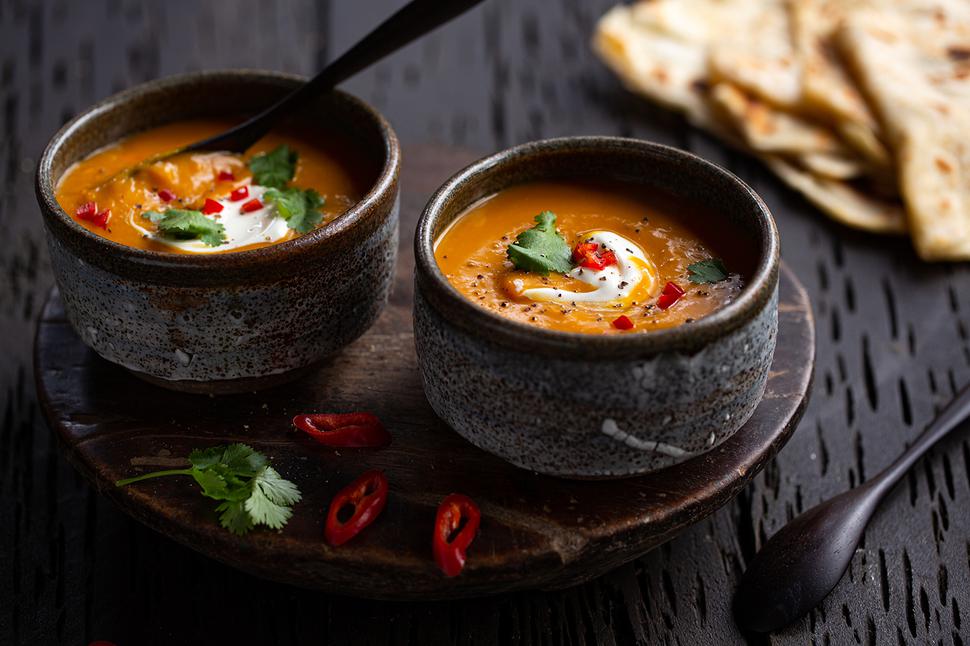 Spicy Roast Butternut Soup
A dash of chilli brings welcome heat to this classic soup paired with homemade roti
Friday July 16, 2021
Roti take 15 minutes from start to finish, with no rising or fluffing around needed. They make the perfect accompaniment to this spicy soup.
SPICY ROAST BUTTERNUT SOUP RECIPE
Serves 4
800g butternut, peeled
2 onions, peeled, chopped roughly
2 Tbsp olive oil
1 tsp salt
1 Tbsp butter
4 cloves garlic, crushed
2 Tbsp grated ginger
1 red chilli, seeds removed, chopped
3 cups chicken stock
2 tsp fish sauce
2 tsp brown sugar
1 cup coconut milk
Yoghurt, extra chilli and coriander leaves to garnish
Roti
200g flour
1 tsp salt
2 Tbsp olive oil
¾ cup warm water
1. Preheat oven to 180C.
2. Place the butternut and onion in a roasting dish. Drizzle over the oil and toss with 1 tsp salt. Roast for 40 minutes or until soft and squishy.
3. Melt the butter in a large pot. Add the garlic, ginger and chilli, cooking for 3 or 4 minutes. Add the roasted vegetables, chicken stock, fish sauce, sugar and coconut milk, bringing to a simmer for 10 minutes. Season and puree until smooth.
4. To make the roti, place the flour, salt, olive oil and water into a large bowl, mixing together with your hands to form a pliable dough. Divide into four. Roll each ball on a lightly floured bench, then fold into thirds and roll again into a circle or square. Heat a roti pan or frying pan to a high heat. Lightly oil and cook 1 roti until bubbles appear, then flip and cook the other side. Cook the remaining three.
5. Serve the soup hot, with roti on the side.
Share this: