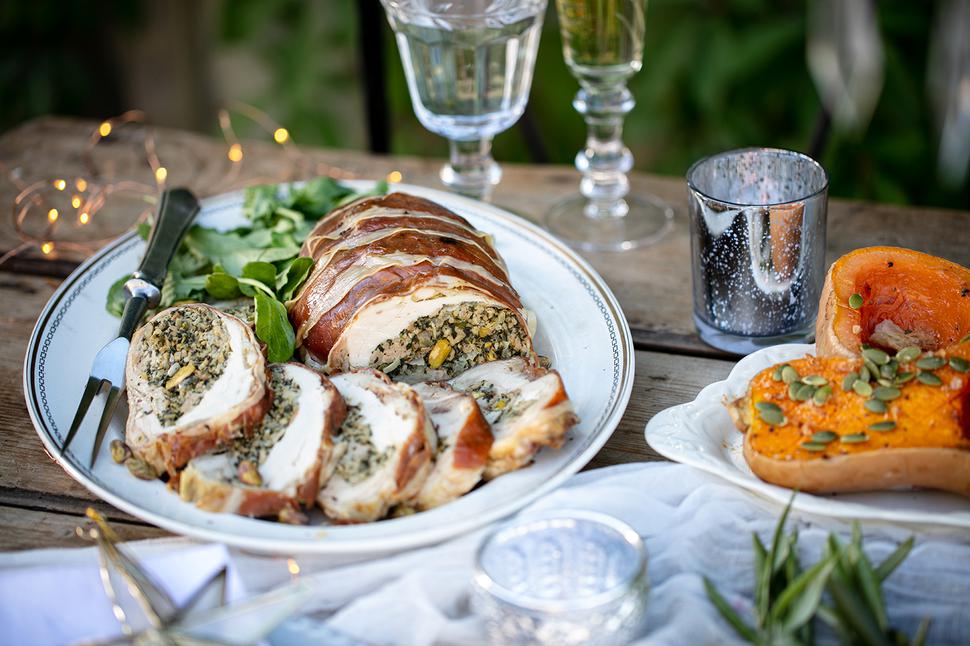 Spinach & Pistachio-Stuffed Chicken Wrapped In Prosciutto Recipe
Rolled, stuffed and wrapped, this recipe has all the hallmarks of a showstopper
Friday Nov. 27, 2020
One of my absolute favourite dishes is a rolled stuffed chicken. If you have pre-stuffed the chicken, bring it back to room temperature before cooking. This is a great dish for Christmas lunch or you can pack it up and take it on a beach picnic. Try it sandwiched between two slabs of fresh bread with chutney the next day.
SPINACH AND PISTACHIO-STUFFED CHICKEN WRAPPED IN PROSCIUTTO
Serves 8-10
1 Tbsp oil
1 onion, chopped
2 cloves garlic, crushed
1 cup frozen spinach, thawed
½ cup pistachios, roughly chopped
200g pork mince
Zest of ½ lemon
¼ cup chopped fresh oregano
¼ cup chopped parsley
1 egg
½ cup fresh breadcrumbs
1 tsp salt and freshly ground pepper
1 boned chicken
100g sliced prosciutto
1. Warm the oil in a frying pan. Add the onion and garlic, cooking until softened. Stir through the spinach. Place into a large bowl. Add the pistachios, mince, lemon, oregano, parsley, egg, breadcrumbs, salt and pepper, combining well.
2. Lie the chicken out flat on a piece of baking paper. Spread the stuffing over the chicken then roll from the long side. Wrap the prosciutto around the chicken, with a slight overlap. Tie with string. Refrigerate until ready to cook.
3. Preheat an oven to 180C. Place the chicken in an oven dish, drizzle with a little oil and bake for one and a half hours or until a skewer comes out clean. Keep any juices to drizzle over the top, or chill and use for gravy later.
Share this:
More Food & Drink / Recipes