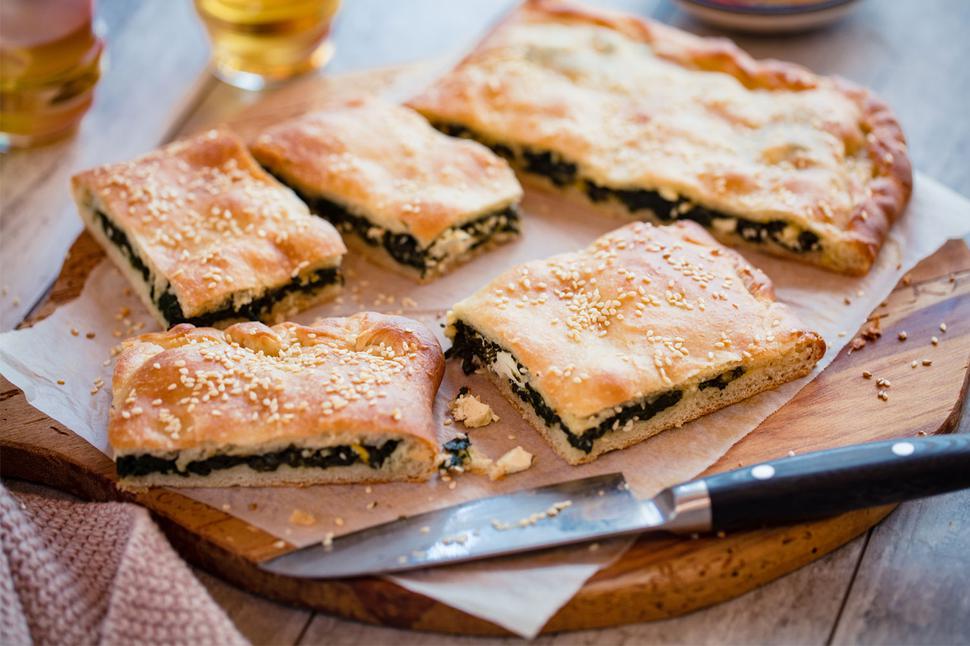 Spinach & Feta Gozleme
Some flavours are destined to be delicious, like this tried-and-true pairing
Friday Aug. 24, 2018
Spinach and feta is such a Turkish combination. It's often used as a filling with filo pastry or added to a moussaka. Once the dough has risen, this gozleme recipe is quick and simple to make.
SPINACH & FETA GOZLEME RECIPE
Serves 6
1 tsp yeast granules
1 tsp sugar
150ml tepid milk
¼ cup olive oil
2 cups plain flour
½ tsp salt
Filling
200g lightly sauteed spinach
200g feta, crumbled
1 cup tasty cheese
Pinch chilli flakes
1 Tbsp lemon zest
Salt and pepper
Egg wash, to glaze
1 tsp sesame seeds
1. Combine the yeast and sugar. Sprinkle over the tepid milk. Leave to sit in a warm place until it becomes frothy. Add the oil.
2. In a large bowl place the flour and salt. Pour in the yeast mixture, then combine using a wooden spoon.
3. Place mixture on to a lightly floured bench and knead for a few minutes. Place in a clean, lightly oiled bowl, cover and put in hot water cupboard or warm spot until doubled in size.
4. Preheat oven to 180C. In a bowl combine the spinach, feta, cheese, chilli flakes, lemon zest, salt and freshly ground pepper to taste.
5. Roll the dough on a lightly floured board into a 40cm x 30cm rectangle. Place the filling on to half the rectangle leaving a 1cm border.
6. Dampen the side and fold one half on to the other. Place on to an oven tray. Brush with the egg wash and sprinkle over sesame seeds. Leave to rest for 15 minutes.
7. Place gozleme into the oven for 30 minutes until risen and golden.
8. Remove and cool slightly before serving with a squeeze of lemon and side salad.
Share this: