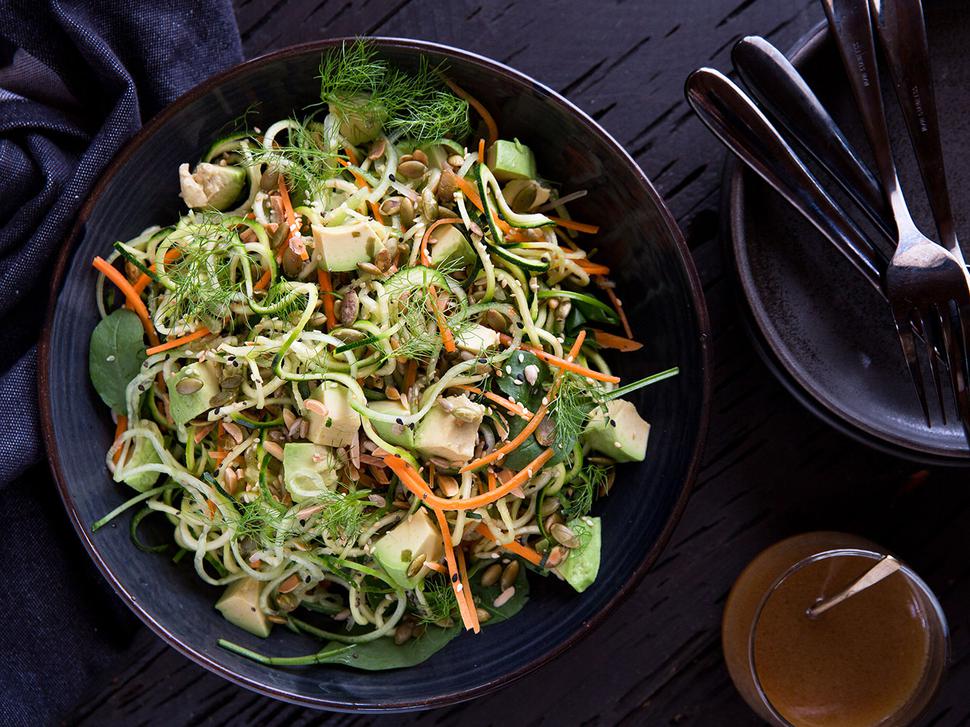 Spiral Vegetables Recipe with Seeds & Nuts
While their flavours are at their best, create this healthy salad with a fresh medley of raw vegetables
Friday Nov. 24, 2017
Serving up a mix of raw vegetables is always a winner as the flavours are at their pure best. I have made spiralled raw vegetables and served them with a simple, tasty dressing along with seeds and nuts to add a crunchy texture. This salad particularly well alongside barbecued meat or a freshly baked quiche on a sunny day.
SPIRAL VEGETABLES WITH SEEDS AND NUTS
Serves 4
3 courgettes
1 carrot
1 stick celery
½ cucumber
1 cup baby spinach leaves
1 avocado, cut into cubes
1 cup mixed toasted nuts and seeds
½ cup fennel fronds
Salt and pepper
Dressing
¼ cup olive oil
1 tsp sesame oil
2 Tbsp lemon juice
1 tsp grated ginger
1 Tbsp honey
1. Make the dressing. Shake together the oils, lemon juice, ginger and honey in a small jar.
2. Using a spiraliser, make the vegetables into spirals. Alternatively, use a potato peeler then slice into strips.
3. Combine the vegetables, spinach leaves, avocado, nuts, seeds, fennel, salt and pepper in a large bowl
4. Mix the salad with the dressing and serve.
Share this: