Chris Rupe of SPQR Opens New Restaurant
Chris Rupe of SPQR fame has transformed a Ponsonby icon into a new restaurant, Augustus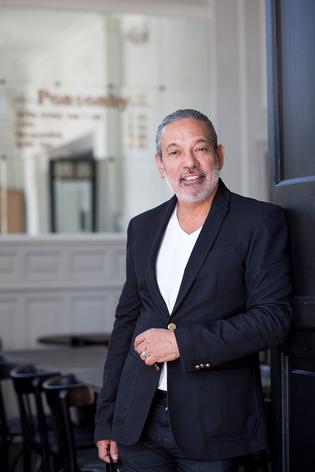 Some people like to write a note, or maybe give a small gift as a way of saying thank you. Chris Rupe, however, is taking things to a whole new level in the gratitude stakes. He's giving the good citizens of Ponsonby a brand new restaurant. And everyone is welcome.
"My initial thoughts were for the local community. They've been so supportive, and I wanted to give something back," says Chris. He is referencing, of course, the season ticket-holders at SPQR, his Ponsonby Rd bastion of 24 years.
Now he's about to stamp his presence at the other end of the strip, at what was originally the old Ponsonby Post Office. This is Augustus - named after postmaster Augustus Braithwaite - a classic bistro with a twist.
It's been stripped right back and is in the final throes of being meticulously restored to its glory days of yore: a happily polished version of its glorious past. On the day we visit, the site is thrumming with busy-ness. It's fluoro vests and work boots galore. There's a baker's dozen of shiny new ovens lined up for installation. If all else is urgency, Chris is a study in nonchalance. "This is a very exciting time for us," he says of his new venture.
Who would do it? In this fickle, cut-throat, low-margin, high-competition world of hospitality, why on Earth would anyone take on such a project? Why not just stick to your knitting, especially when you've got such a successful recipe bubbling along just a kilometre away? "Passion," he says. "It's all about passion."
READ: Champagne Memories at Ponsonby's SPQR
And love at first sight too. Chris had always had his eye on the site after the post office upped sticks. "I'd drive past and think 'that's a wonderful place'. The bones were there - all the elements were there. These sites with the right ingredients rarely become available."
So when the lease came up and it was pitched to him, he signed - within two hours of eyeing the papers. "If I hadn't opened it, somebody else would have." (He knows well the perils of hesitation; is still kicking himself for not grabbing the Ponsonby Central spot that is now the domain of Mark Wallbank's Blue Breeze Inn.)
The counter where we queued to post our parcels is now the bar - a big black marble one. There's a florist where the main entrance once was. Out here to one side is the garden room. The main point of entry and exit will now be via the north-facing courtyard where the sun shines in. All is lush, and abundant with promise, courtesy of landscaper Andy Hamilton and interior designer Emma Richardson.
You can come and just have a drink if you like. Or you can stop and feast off a very smart but casual menu, designed by Chris and consulting chef Des Harris (of Clooney fame), and executed by French chef Christophe Carissan.
Consider some of the dishes. There's the weekend brunch in the courtyard, which includes such options as fresh crab omelette with tarragon butter and caviar salt. Or the main menu, with sections such as fruits de mer, charcuterie and sandwiches (Augustus cheeseburger included). Then there's the plat du jour (Sunday's offering is double-baked crab souffle).
"I love everything about Italian and French food. I wanted to do something that was fresh, clean and healthy: a casual bistro/brasserie," says Chris. So don't expect any foam garnishes, he laughs. And fresh and healthy doesn't mean paleo.
The wine list mirrors his own shift in tastes. Once, for him, it was: "chardonnay, chardonnay, chardonnay". Now: "As you get older, you mellow a bit. I'm drinking more European wines, they're a lot softer on the body."
Chris likes to keep things in the family. Augustus is a joint venture with wife Meegan and daughter Courtney. And that's another reason for the venture. It was time to bring Courtney into the management fold, he says. She will keep a close eye on the business side of things; he'll be flicking backwards and forwards between the old and the new.
Back in the day he was a surfer. From Taumarunui. He got his first break in hospitality when he started as a trainee manager at Parnell's Rosepark Hotel. What was the attraction? "I always had an eye for beautiful-looking, beautiful-tasting food. It was always winking at me." And then there was the combination with wine: "the perfect marriage," Chris says.
The route that got him to Ponsonby Rd was via Sydney (Doyles), London and then SP's near-neighbour, Prego. Both institutions have become elder statesmen on one of Auckland's most unforgiving stretches.
READ: The Most Stylish Restaurants Across NZ
If at this point you hear the distinct trumpeting of elephants in the background, it is because there is the matter of another venture to consider. There was Chandelier (circa 2002): a plush, spectacularly grand address which did not last. It was, by his own description: "a little ahead of its time". Other operations Mojito Bar and Spy Bar are no longer in his hands.
"I don't know anyone who's been successful with everything they've done," he says. "Each time, you have to get it right; nothing is guaranteed."
Well, maybe some things are. Augustus is scheduled to open later this week, and you can be sure the boss will be there on time. That may have something to do with the fact his watch is programmed 10 minutes fast, so he's never late.
And don't worry if you haven't yet received an invitation to an opening do. The price of stalwart loyalty such as SPQR enjoys means that, in the interests of not leaving anyone off the guest list, he hasn't put one together. Heaven forfend that he should offend, when the locals have been so unfailingly faithful.
"I'm truly grateful for everyone's patronage and support over the years," he says. In recognition of that, Augustus will only be half-booked each night, making way for walk-ins. Come one, come all: bring the family, he says.
Twenty-four years is a long time in hospitality years. Chris does not seem wearied by it. "I'm not ready to hang up my hat," he protests, "I've still got so much more to do."
What? Does that mean more after Augustus? "If you think this is it, you could think again. There are more projects in the pipeline."
Share this: