SPQR's Oven-Baked Scallops Recipe
This dish was introduced by S.P.Q.R's chef Giovanni Pisu shares his crowd favourite recipe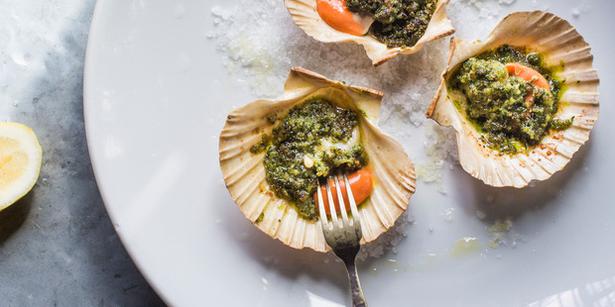 Monday Oct. 20, 2014
This dish was introduced by S.P.Q.R's chef Giovanni Pisu, who hails from Sardinia. It is a crowd favourite and very simple to make. Perfect for those lazy Sunday afternoons when you just feel like kicking back. A dry white wine goes best with this dish.
OVEN-BAKED SCALLOPS
Serves 4
Herb & Butter Mix
2 tbsp each: chopped mint, basil and Italian parsley
1 garlic clove, finely chopped
100g butter, softened
¾ cup breadcrumbs (made from day-old bread)
12 scallops, plus shells for serving
brandy, for drizzling
¼ cup Parmesan powder 
200g rock salt
lemon wedges and extra virgin olive oil, to garnish
1. Place all Herb & Butter Mix ingredients in a food processor and mix until well combined. Store in an airtight container until ready to use.
2. Preheat oven to 200°C.
3. Lay the scallop shells on a baking tray. Place one fresh scallop in each shell.
4. Put 1 teaspoon of Herb & Butter Mix on each scallop. Drizzle scallops with brandy and add a light sprinkle of Parmesan powder to each shell. Bake in oven for 8 minutes.
5. Place a portion of rock salt in the centre of each plate, spreading outwards. Remove scallops from oven and arrange shells on top of salt. Garnish each dish with a wedge of lemon and drizzle with olive oil.
• Reproduced with permission from S.P.Q.R. Published by Penguin Group NZ. RRP $60. Copyright © text S.P.Q.R, 2014. Copyright photography © Tamara West, 2014.
Share this: