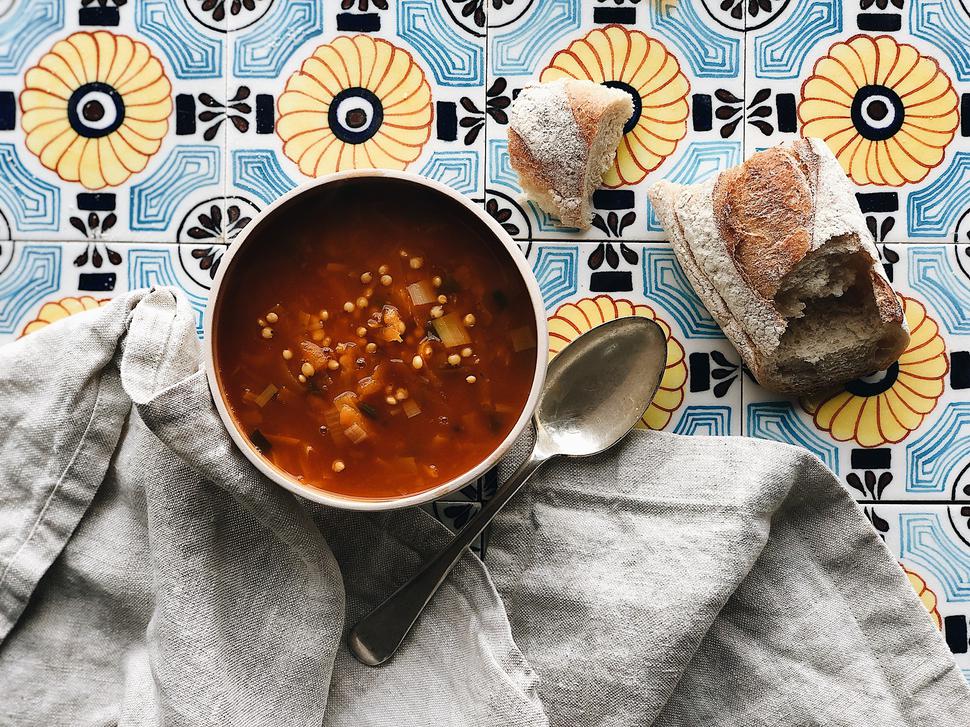 Spring Soup With Sorghum, Leek & Chives
This soup is the perfect antidote to spring's wet weather, especially when served with sourdough and lashings of butter
Thursday Nov. 14, 2019
This is a particularly aromatic and vibrant soup, just what I feel like eating in this wet spring weather. You can use a nice quality chicken or vegetable stock here and fresh chives added at the end of the cooking process really makes this soup fresh and lively. For a more substantial meal, serve with some rustic sourdough and lashings of butter.
SPRING SOUP WITH SORGHUM, LEEK & CHIVES RECIPE
Serves 6
3 Tbsp butter, ghee or olive oil
3-4 garlic cloves, peeled and finely chopped
1 leek, finely sliced
6 cups of good-quality vegetable or chicken stock
2 Tbsp tomato paste
2 large carrots, grated
1 cup sorghum*
Large handful of fresh chives, finely sliced
1. In a large soup pot, heat the butter, ghee or olive oil over medium heat. Add the garlic and cook while stirring until fragrant. Add the leek, and continue to cook while stirring for a minute or so until softened.
2. Add the stock, tomato paste and grated carrot.
3. Bring to the boil, then simmer for 20 minutes. Add the sorghum, and simmer until al-dente, about 25 minutes.
4. Lastly, stir in the chives, and season to taste with sea salt and ground pepper.
*You can experiment with different grains here, such as pearl barley, spelt or amaranth.
Share this: